This product is manufactured by Apotex Inc. using the ingredient salbutamol sulphate.
This product is taken via MDI (metered dose inhaler).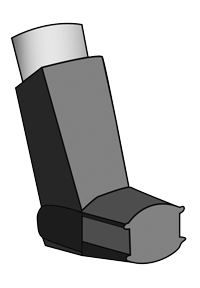 play
MDI (metered dose inhaler)
Why is it prescribed?
Salbutamol is used to relieve and prevent bronchospasm associated with asthma, bronchitis, emphysema and other pulmonary disorders where bronchospasm is a complicating factor. It is also indicated in the prevention of exercise-induced bronchospasm.
Use Apo-Salvent exactly as prescribed by the doctor. Apo-Salvent is an aerosol meant for inhalation only.
Your doctor or pharmacist should have instructed you on the proper use and care of your Apo-Salvent. It is advisable to have your technique reassessed by the pharmacist for the first 2 or 3 refills of your prescription.
Remember to shake the inhaler before each use.
Some people experience dry mouth and throat after use. Rinsing with water may help prevent the dryness.
When 2 inhalations are required, wait at one full minute between doses. This is rescue medication and should be carried with you at all times.
Each canister usually contains 200 doses so it is important to keep a record of approximately when it should be replaced. To avoid problems, many people keep 2 inhalers on hand.
Your inhaler should be stored at room temperature (between 15 to 25 degrees centigrade). The contents of the canister is under pressure and should never be punctured, used or stored near heat or open flame.
Devices (e.g. spacers) are available to assist you in using your inhaler. Although these devices are not necessary, they have been shown to increase effectiveness and help people who are unable to coordinate inhalation with actuation of the inhaler. Your doctor or pharmacist will help you choose the device most suited to your needs.
The inhaler should be cleaned and cared for according to the manufacturer's instructions.
Alternatives
Other products that have the same ingredient as Apo-Salvent MDI are •Airomir® MDI •Baca Respiclick™ •Combivent® Respimat® •PMS-Salbutamol Polynebs® •Sanis-Salbutamol Inhaler HFA •Teva-Combo Sterinebs •Teva-Salbutamol HFA •Teva-Salbutamol SteriNeb •Ventolin® Diskus® •Ventolin® HFA •Ventolin® inhalation solution •
See other products used in the treatment of •asthma •bronchitis •bronchospasm associated with COPD •chronic bronchitis (COPD) •COPD •emphysema (COPD) •exercise-induced bronchospasm •

The usual dose for children and adults is 1-2 puffs (100 to 200 mcg) as needed to relieve bronchospasm. The maximum dose in adults is 8 puffs/day.
The usual dose for children over 12 years of age and adults for the prevention of exercise-induced asthma is 2 puffs (200 mcg) fifteen minutes before exercise.
Salbutamol is a short-acting bronchodilator that acts at specific receptors in the body called beta2-adrenergic receptors. Stimulating these beta2-receptors in the bronchial smooth muscle causes the muscle to relax, allowing the bronchial tubes to dilate (widen). Salbutamol relieves the spasm in the small air passages in the lungs and so helps ease breathing problems.
Along with its needed effects, salbutamol may cause some unwanted or undesirable effects. Generally, salbutamol is well tolerated and many people will not experience unwanted effects. The severity and duration of these effects are dependant on many factors including duration of therapy, dose, route of administration and individual response. Possible unwanted effects include:
cough (inhaled preparations only)
nervousness
slight palpitations (awareness of heart beat)
tremor
dry mouth and throat (inhaled preparations only)
Uncommon:
headache
increased heart rate
dizziness
nausea
muscle cramps
trouble sleeping
weakness
Rare:
restlessness
irritability
unusual taste
angina (chest pain/discomfort)
increase in blood pressure
hyperactivity in children
Many of these unwanted effects, especially the most common ones, may disappear with continued use. Check with the doctor or pharmacist if any of them continue or become bothersome.
Poor response to salbutamol can often be attributed to improper use of the delivery device. Be sure to follow the directions given to you by your pharmacist and read the patient instructions that are provided with each product. Never exceed the maximum dosage set by your physician. If you find that you are not responding to your usual dose, it could mean that your asthma is worsening and you should contact your physician. Increasing the dose, especially over extended periods, can lead to decreasing response to the drug. Keep in mind that the bronchodilator action should last between 2 and 6 hours. If you are using salbutamol for an acute asthma episode and the condition continues or worsens, call your doctor or seek medical attention immediately. If you need to use salbutamol to relieve symptoms more than 3 times a week you should also be using an anti-inflammatory medication (e.g. beclomethasone, fluticasone).
Drug Interactions: Be sure to tell your doctor and pharmacist about any prescription or over-the- counter medications you are taking. The following drugs and drug classes have been known to interact with salbutamol:
MAO (monoamine oxidase) inhibitors (e.g. phenelzine, tranylcypromine)
tricyclic antidepressants (e.g. amitriptyline)
some beta-blockers (e.g. propranolol)
other bronchodilators (e.g. terbutaline)
digoxin
pseudoephedrine
Use is not recommended in the following situations:
allergy to salbutamol or any component of the preparation (some of these products may contain sulfite preservatives or lactose so ask your pharmacist).
cardiac arrhythmia (irregular heart beat) associated with tachycardia (rapid heart rate)
Caution recommended in the following situations:
hyperthyroidism
high blood pressure
diabetes
cardiovascular disorders
seizures
heart disease
low blood potassium
sensitivity to sympathomimetics (drugs that stimulate the central nervous sysytem)
Use in pregnancy: Inhaled salbutamol is considered compatible with pregnancy. Consult your doctor or pharmacist if you suspect that you may be pregnant.
Use while breastfeeding: Inhaled salbutamol is considered compatible with breastfeeding, however, consult your doctor or pharmacist before use.