Zykadia®
This product is manufactured by Novartis using the ingredient ceritinib.
This product is taken orally.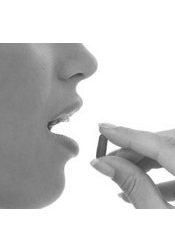 play
orally
Why is it prescribed?
Ceritinib is used to treat adult patients with anaplastic lymphoma kinase (ALK)-positive locally advanced (a cancer that cannot be surgically removed for cure) or metastatic (a cancer that has spread to other parts of the body) non-small cell lung cancer (NSCLC).
---
You should not eat or drink grapefruit products while taking Zykadia® as they can cause a harmful increase of the drug in the blood.
Take with food
Swallow whole with water. Do NOT chew or crush capsules.
If vomiting occurs after you swallow the capsules, do not take any more until your next scheduled dose
If you miss a dose, take it as soon as you remember. If your next dose is due within 12 hours, then skip the missed dose. Just take the next dose at your regular time.
Store in the original package. Do not store above 30°C.
Alternatives
See other products used in the treatment of •non-small cell lung cancer •

The usual adult dose is: 450 mg once a day with food.
Ceritinib is a targeted therapy for cancer. It targets and binds to the tyrosine kinase receptors and inhibits anaplastic lymphoma kinase (ALK). Some types of non-small cell lung cancer are caused by a defect in ALK and therefore, ceritinib may slow down the growth and spread of this type of cancer.
More common side effects:
Diarrhea
Hemoglobin decreased
Increase in liver enzymes
Nausea
Vomiting
Increase in creatinine
Abdominal pain
Fatigue
Glucose increased
Decrease in phosphate
Decreased appetite
Less common side effects:
Constipation
Lipase increased
Esophageal disorder (Heart burn, dyspepsia, dysphagia)
Rash
Bilirubin (total) increased
Contact your health care provider immediately, day or night, if you should experience any of the following symptoms:
Fever of 100.4° F (38° or higher, chills)
Sudden onset of shortness of breath, chest pain, accompanied by cough (with or without mucus)
The following symptoms require medical attention, but are not an emergency:
Diarrhea (4-6 episodes in a 24-hour period)
Nausea (interferes with ability to eat and unrelieved with prescribed medication).
Vomiting (vomiting more than 4-5 times in a 24 hour period)
Unable to eat or drink for 24 hours or have signs of dehydration: tiredness, thirst, dry mouth, dark and decrease amount of urine, or dizziness
Skin or the whites of your eyes turn yellow
Itchy skin
Urine turns dark or brown (tea color)
Decreased appetite
Pain on the right side of your stomach
Bleed or bruise more easily than normal
Itching
Cough with or without mucus
Fast or abnormal heartbeats, dizziness or lightheadedness
Increase in blood sugar, increased thirst, increased hunger, headaches, trouble thinking or concentrating, increased urination, blurred vision, tiredness or breath that smells like fruit
Do not use ceritinib if you:
are allergic to ceritinib, or any other ingredients in the formulation .
have a heart disorder called congenital long QT syndrome.
Use ceritinib with caution if you:
have/had problems with your liver.
have/had diabetes or high blood sugar.
have/had problems with your lungs or problems breathing.
have/had problems with your heart, including a condition called long QT syndrome.
have/had problems with your pancreas.
have a history of fainting.
have a family history of sudden cardiac death at less than 50 years of age.
have electrolyte disturbances such as hypokalemia (low potassium in the blood), hypomagnesemia (low magnesium in the blood) or hypocalcemia (low calcium in the blood) or suffer from excessive vomiting or an eating disorder.
Drug interactions: Check with your physician or pharmacist if you are on:
Anti-arrhythmics: quinidine, amiodarone, disopyramide, procainamide, sotalol, ibutilide, dronedarone, flecainide, propafenone;
Medicines used to stabilize thinking and behaviour, such as chlorpromazine, droperidol, haloperidol, ziprasidone;
Antidepressants (e.g. amitriptyline, imipramine, maprotiline, nefazodone)
Pentamidine;
Medicines used to treat malaria such as quinine, chloroquine
Medicines used to treat AIDS/HIV such as ritonavir or saquinavir
Antifungals like ketoconazole, itraconazole, fluconazole, voriconazole or posaconazole
Antibiotics like azithromycin, moxifloxacin, levofloxacin, ciprofloxacin, erythromycin, clarithromycin, telithromycin, tacrolimus;
Medicines that decrease electrolyte levels such as water pills or laxatives
Methadone
Ondansetron, domperidone;
Other cancer medicines such as vorinostat, sunitinib, nilotinib, lapatinib, and vandetanib
Formoterol and salmeterol
St. John's Wort
Anti-epileptics such as phenytoin, carbamazepine, or phenobarbital
Rifampin or rifabutin
Midazolam
Warfarin
Diclofenac
Ciclosporin, tacrolimus and sirolimus
Ergotamine
Medicines used to treat heartburn and indigestion such as antacids and H2 blockers
Alfentanil and fentanyl
Safety in pregnancy: Ceritinib may cause harm to the fetus. Both men and women must use birth control during treatment and for 3 months after stopping ceritinib.
Safety in breastfeeding: No human data available. Consult with physician/pharmacist before use.