Tudorza® Genuair®
This product is manufactured by AstraZeneca Canada Inc. using the ingredient aclidinium bromide.
This product is inhaled into the lungs using the Genuair®.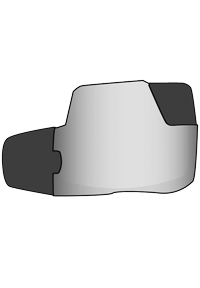 play
Genuair®
Why is it prescribed?
Aclidinium bromide is an anticholinergic long-acting bronchodilator used for the maintenance treatment of bronchospasm associated with chronic obstructive pulmonary disease (COPD), including chronic bronchitis and emphysema. To receive the most benefit from this medication, it must be used regularly. Do NOT use this medication to treat episodes of shortness of breath.
---
Tudorza® Genuair® is used to treat COPD. It works by opening up the airways, making breathing easier. It works best when it is used regularly, every day. It is a maintenance treatment and should not be used as a rescue medication during a sudden episode of breathing difficulty. Always keep a rescue inhaler on hand to treat these episodes.
Tudorza® Genuair® should be used twice daily. If you forget or miss a dose, just skip the dose. Take your next dose at your usual time.
Tudorza® Genuair® comes in a sealed protective pouch. Do not open the pouch until you are ready to use the inhaler. To be used within 90 days of opening the pouch.
Tudorza Genuair® has a dose indicator that lets you know when your inhaler is empty. When this indicator shows zero, or 45 days have passed, the inhaler should be discarded.
If the inhaler appears to be damaged or if you lose the cap, your inhaler should be replaced.
You don't need to clean your inhaler. However, if you wish to clean it you should do so by wiping the outside of the mouthpiece with a dry tissue or paper towel.
Store at room temperature.
Alternatives
Other products that have the same ingredient as Tudorza® Genuair® are •Duaklir® Genuair® •
See other products used in the treatment of •COPD •

The recommended dose of Tudorza® Genuair® is one oral inhalation of 400mcg twice daily. it is indicated for use in adults only.
Aclidinium bromide is a long-acting antimuscarinic agent used by inhalation through the mouth. It works by relaxing the muscles that surround the airways. This opens the air passages and makes breathing easier.
Along with its benefit, aclidinium bromide may cause unwanted effects. Possible side effects include:
headache
inflammation or irritation of the nose and throat
cough
diarrhea
sinusitis
vomiting
hoarseness
dizziness
Stop taking this medication and seek medical help if you experience:
New or worsened pressure in your eyes, eye pain or discomfort, blurred vision, seeing halos of bright colours around lights, red eyes.
Tightness of the chest associated with coughing, wheezing, or breathlessness immediately after inhalation
Serious allergic reactions: rash, hives, swelling of the face, mouth, lips and tongue with or without breathing problems
Aclidinium bromide is for maintenance therapy only and should not be used as a rescue inhaler during a sudden episode of bronchospasm.
Aclidinium bromide may cause paroxysmal bronchospasm in some patients. If this happens, discontinue use.
Aclidinium should be used cautiously in patients with narrow- angle glaucoma. If symptoms of acute narrow-angle glaucoma such as, eye pain, visual halos, or blurred vision develop, consult your physician immediately.
Aclidinium should be used cautiously in patients who have urinary retention. If passing urine becomes difficult, or painful, consult your physician immediately.
Patients with a hypersensitivity to aclidinium bromide should not use it.
Patients who have a hypersensitivity to atropine should use aclidinium with caution. The two are structurally similar and hypersensitivity reaction may occur.
Patients with a severe allergy to milk protein should not use aclidinium.
Use in pregnancy and breastfeeding: Limited human data available at this time. Use only if benefits outweigh risks. Consult your doctor or pharmacist before use.