Heroes can be defined as people who give of themselves, with selfless sacrifice, for the greater good of others.  
To our heroic group of respiratory health professionals who are working to end this pandemic, we cannot express our gratitude in a way that does justice to your service to Canadians. 
We sincerely THANK YOU. 
To help you find information about COVID-19 we are providing you with links to a number of COVID-19 resources.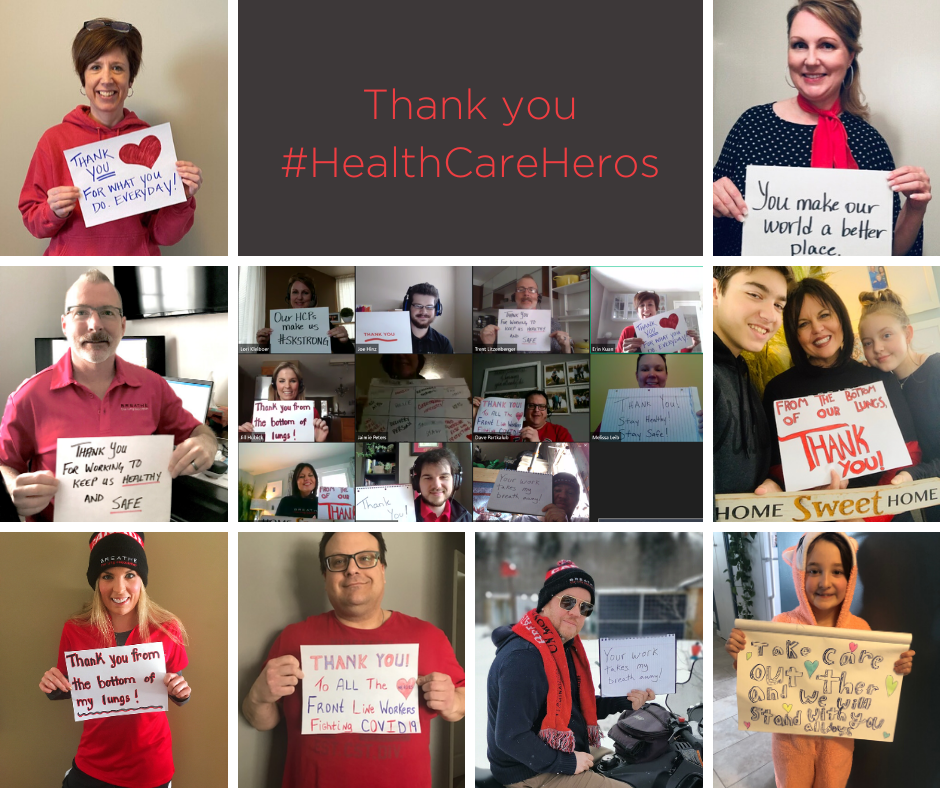 Information, Statements and Documents
Lung Sask
For information regarding COVID-19, including links to the most reliable sources of information, Lung Sask has a general information page on its website.
Lung Sask's Professional Education Portal (PEP) is home to many links to research articles, announcements, studies, webinars, and other news. Visit PEP for posted articles and regular updates on COVID-19 and respiratory health.
The Lung Association
Visit the Canadian Lung Association for COVID-19 resources, including a link to a Public Health Agency of Canada video on How to Wear a Non-Medical Mask and Face Covering Properly, and for a downloadable Lung Association information sheet on Non-medical Face Masks and COVID-19.
The Lung Association is pleased to share a NEW resource entitled Flu, Pneumonia and COVID-19 at a Glance. This fact sheet provides quick guidance on differentiating between the flu, pneumonia and COVID-19 and is available in both English and French.
Canadian Thoracic Society (CTS)
The CTS has launched a COVID-19 resource website to support its members and healthcare professionals. The website provides free access to information, guidelines, position statements, education and training materials, and wellness resources.
Included on the website are NEW position statements developed by the CTS Asthma, COPD, and Sleep Disordered Breathing Steering Committees. The NEW Asthma Position Statement, NEW COPD Position Statement, and NEW Sleep Disordered Breathing Statement address therapeutic questions to help CanadIan physicians optimize management for their patients during the COVID-19 pandemic.
The CTS participated in multi-stakeholder meetings with Health Canada to discuss mitigation strategies for an emerging salbutamol inhaler shortage in Canada during the COVID-19 pandemic. The CTS Asthma and COPD Assembly Steering Committees developed rapid guidance for Canadian physicians recommending options for Salbutamol MDI substitutions in the event of a shortage.  
A NEW publication by the CTS provides recommendations regarding the use of face masks by the public during the SARS-CoV-2 (COVID-19) pandemic.
A NEW joint CTS and Canadian Society of Respiratory Therapists (CSRT) position statement and webinar have been released that provide guidance for the resumption of pulmonary function services during the post-peak phase of the COVID-19 pandemic (i.e.,period of low community prevalence). The statement is available both in ENGLISH and FRENCH.
The CTS has published a NEW position statement on delivering pulmonary rehabilitation during the COVID-19 pandemic. The position statement aims to provide guidance for resumption of pulmonary rehabilitation (PR) services during the post-peak phase of the COVID-19 pandemic (i.e. period of low community prevalence). The recommendations are based on the consensus of the authors, who are members of the CTS and on the information available at the time the document was written.
The CTS has a repository of Canadian and International links to Vaccine Information for Health Professionals.
Global Initiative for Chronic Obstructive Lung Disease (GOLD) 
GOLD recognizes that people with COPD are amongst the worst affected by COVID-19 and is working with the World Health Organization (WHO) to try to minimise the impact of the infection. GOLD has issued a COVID-19 guidance statement for those living with COPD.
Global Initiative for Asthma (GINA) 
GINA provides health professionals with answers to frequently asked questions on asthma management in this special COVID-19 statement.
World Health Organization (WHO) 
Working with 194 Member States, across six regions, and from more than 150 offices, WHO staff are united in a shared commitment to achieve better health for everyone, everywhere.  Health professionals can stay informed by accessing their latest updates on the COVID-19 pandemic. 
Asthma Canada
Visit Asthma Canada to review an Asthma and Coronavirus (COVID-19) Q & A. Common questions regarding asthma and COVID-19 are answered by Canadian Medical Professionals.
Cystic Fibrosis (CF) Canada
Visit CF Canada for COVID-19 information for the CF Community.
Canadian Network for Respiratory Care (CNRC) 
The CNRC has issued an advice for patients COVID-19 document that provides suggestions for patients with asthma, COPD and other chronic respiratory illnesses.  
Canadian Society of Respiratory Therapists (CSRT)
CSRT has developed a number of COVID-19 resources for Respiratory Therapists (RTs) including a COVID-19 Resource Repository, a COVID-19 Fact Sheet for RTs, and a CSRT Rapid Response Refresher Toolkit for RTs returning to practice.
American Thoracic Society (ATS) 
Pulmonary function tests (PFTs) require patients to breath as deeply as possible and exhale air as rapidly and forcefully as possible.  This action generates droplets from the lungs that can carry viruses and other infectious agents, greatly increasing the risk of spreading infections to PFT technologists and other patients. The ATS has issued the following advice regarding COVID-19 and performing pulmonary function testing. 
Government of Saskatchewan 
The Government of Saskatchewan website has COVID-19 information for Health Care Providers including information about personal protective equipment (PPE), virtual care, and facility signage. Additionally, the Government of Saskatchewan has put in place a number of Public Health Orders to stop the spread of COVID-19.
University of Saskatchewan – Continuing Medical Education (CME) 
A series of videos addressing common questions about COVID-19 is now available at the University of Saskatchewan CME website. 
Recorded Webinars
Canadian Lung Association COVID-19 and Your Lung Health Webinar. This webinar features Dr. Erika Penz, Dr. Shawn Aaron, Dr. Irv Mayers, and Mr. Neil Johnston RRT answering a number of questions regarding COVID-19. Webinar Link 
Canadian Network for Respiratory Care Certified Respiratory Educator Webinar – COVID-19. Dr. Ron Grossman and Dr. Ken Chapman share insights and answer questions during this COVID-19 town hall presentation. Webinar Link