Heroes can be defined as people who give of themselves, with selfless sacrifice, for the greater good of others.  
To our heroic group of respiratory health professionals who worked tirelessly during the pandemic, and continue to work to ensure we remain healthy and safe, we cannot express our gratitude in a way that does justice to your service to Canadians. 
We sincerely THANK YOU. 
To help you find information about COVID-19 we are providing you with links to a number of COVID-19 resources.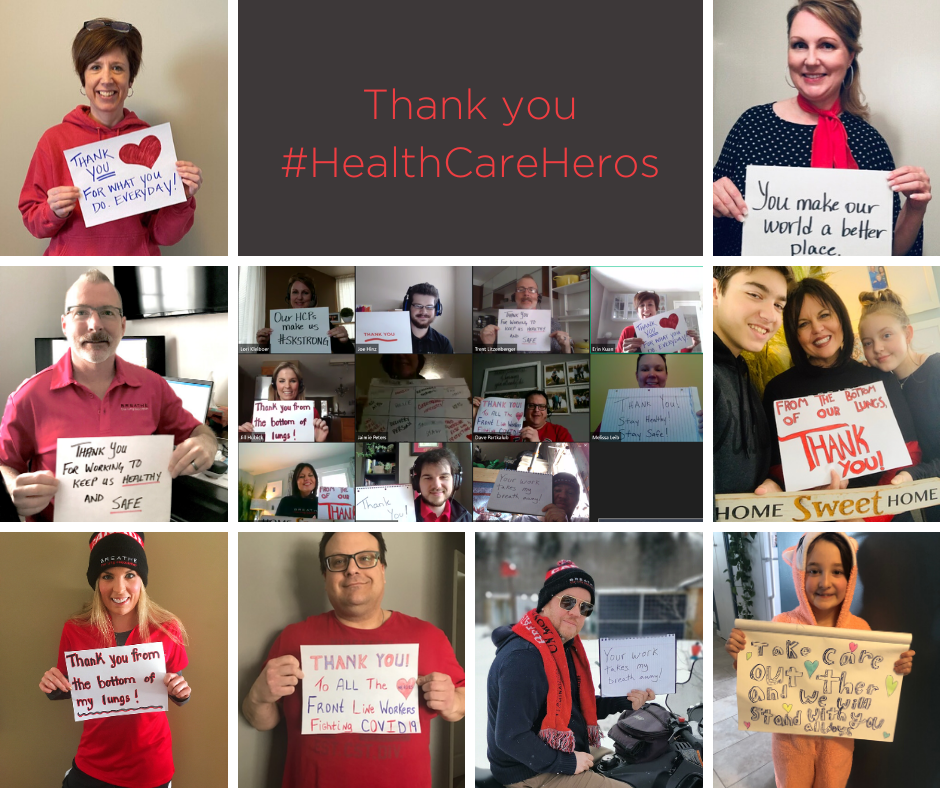 Information, Statements and Documents
Lung Sask
To Learn more about COVID-19, including links to provincial sources of information, visit Lung Sask COVID-19.
Lung Sask's Professional Education Portal (PEP) is home to many links to research articles, announcements, studies, webinars, and other news. Visit PEP for posted articles and regular updates on COVID-19 and respiratory health.
---
Canadian Thoracic Society (CTS)
The CTS is home to numerous statements, and guidelines including numerous COVID-19 resources. Visit CTS Guidelines and COVID-19 Resources for the most current information and guidance available.
---
Global Initiative for Chronic Obstructive Lung Disease (GOLD) 
GOLD recognizes that people with COPD are amongst the worst affected by COVID-19 and is working with the World Health Organization (WHO) to try to minimise the impact of the infection. GOLD has issued a COVID-19 guidance statement for those living with COPD.
---
Global Initiative for Asthma (GINA) 
GINA provides health professionals with answers to frequently asked questions on asthma management in this special COVID-19 statement.
---
World Health Organization (WHO) 
Working with 194 Member States, across six regions, and from more than 150 offices, WHO staff are united in a shared commitment to achieve better health for everyone, everywhere.  Health professionals can stay informed by accessing their latest updates on the COVID-19 pandemic. 
---
Asthma Canada
Visit Asthma Canada to review an Asthma and Coronavirus (COVID-19) Q & A. Common questions regarding asthma and COVID-19 are answered by Canadian Medical Professionals.
---
Cystic Fibrosis (CF) Canada
Visit CF Canada for COVID-19 information for the CF Community.
---
Canadian Network for Respiratory Care (CNRC) 
The CNRC has issued an advice for patients COVID-19 document that provides suggestions for patients with asthma, COPD and other chronic respiratory illnesses.  
---
Canadian Society of Respiratory Therapists (CSRT)
CSRT has developed a number of COVID-19 resources for Respiratory Therapists (RTs) including a COVID-19 Resource Repository, a COVID-19 Fact Sheet for RTs, and a CSRT Rapid Response Refresher Toolkit for RTs returning to practice.
---
American Thoracic Society (ATS) 
Pulmonary function tests (PFTs) require patients to breath as deeply as possible and exhale air as rapidly and forcefully as possible.  This action generates droplets from the lungs that can carry viruses and other infectious agents, greatly increasing the risk of spreading infections to PFT technologists and other patients. The ATS has issued the following advice regarding COVID-19 and performing pulmonary function testing. 
---
Government of Saskatchewan 
The Government of Saskatchewan website has COVID-19 information for Health Care Providers including information about personal protective equipment (PPE), virtual care, and facility signage. Additionally, the Government of Saskatchewan has put in place a number of Public Health Orders to stop the spread of COVID-19.
---
University of Saskatchewan – Continuing Medical Education (CME) 
A series of videos addressing common questions about COVID-19 is now available at the University of Saskatchewan CME website.