Apo-Erlotinib
This product is manufactured by Apotex Inc. using the ingredient erlotinib.
This product is taken orally.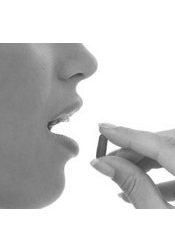 play
orally
Why is it prescribed?
Erlotinib is used for treating advanced or metastic non-small cell lung cancer. It is used when:
at least one regimen of chemotherapy has not been effective
4 cycles of chemotherapy have stabilized the cancer growth. Erlotinib may be used for maintenance therapy
the patient has a confirmed activating mutation of the epidermal growth factor receptor tyrosine kinase.
---
Erlotinib is used to treat advanced non-small cell lung cancer that has not responded to chemotherapy and has tested positive for the activating mutation of the epidermal growth factor receptor tyrosine kinase.
Erlotinib targets lung cancer cells and may help to stop them from multiplying and growing.
Take this medication on an empty stomach, at least one hour before or two hours after eating.
If you develop diarrhea, you may treat it with non-prescription loperamide tablets. It is also important to drink lots of water and other fluids to prevent dehydration from occurring.
Store at room temperature - away from children.
Alternatives
Other products that have the same ingredient as Apo-Erlotinib are •Nat-Erlotinib tablet •PMS-Erlotinib tablet •Tarceva® tablets •Teva-Erlotinib tablets •
See other products used in the treatment of •non-small cell lung cancer •

The recommended daily dose of Apo-Erlotinib is 150 mg taken orally with a glass of plain water, at least one hour before or two hours after the ingestion of food. When dose reduction is necessary, it is recommended to reduce in 50 mg steps.
Erlotinib is an Epidermal Growth Factor Receptor Tyrosine Kinase inhibitor.
The exact way that erlotinib works is not known. It is thought to work by suppressing epidermal growth factor receptor tyrosine kinase. This is a protein that is known to promote the growth and spread of cancer cells.
along with its therapeutic benefit, erlotinib may cause the following side effects:
rash
diarrhea
lethargy
nausea and vomiting
loss of appetite
mouth irritation
stomach pain
itching
dry skin
Tell your doctor immediately if any of these rare but very serious side effects occur: black stools, vomit that looks like coffee grounds, easy bleeding/bruising, stomach/abdominal pain, yellowing eyes or skin, dark urine, unusual fatigue, signs of infection (e.g., fever, chills, persistent sore throat), eye pain, vision changes
Erlotinib should only be administered by a health care provider experienced in treating cancer.
Before starting therapy, testing should be done to confirm the cancer cells have the EGFR mutation.
Use erlotinib with caution if:

you have liver problems
you have kidney problems
you have gastrointestinal ulcers (bleeding of the stomach or intestines) or diverticular disease
you have cataracts, have had cataract surgery, or wear contact lenses
you have lung disease
you smoke tobacco

The following medications may interact with erlotinib:

Some antifungals (such as ketoconazole, fluconazole)
Calcium channel blockers
Macrolide antibiotics (such as erythromycin, clarithromycin)
Fluoroquinolone antibiotics (such as ciprofloxacin, norfloxacin)
Rifampin
Some antivirals (such as ritonavir, indinavir)
St. John's Wort
Carbamazepine and phenytoin
Warfarin
Medications which reduce acid in the stomach (such as omeprazole, ranitidine)
Statin drugs to treat high cholesterol

Erlotinib may cause diarrhea, nausea and vomiting. In some cases, these symptoms may be severe and therapy may need to be interrupted.
Cases of interstitial lung disease have been reported in patients receiving erlotinib and some have been fatal. Notify your health care provider if you develop sudden changes in your breathing function such as shortness of breath, a new cough, or fever. If these symptoms develop, therapy with erlotinib may need to be interrupted.
Development of a skin rash is a common adverse reaction to erlotinib. In a small number of patients this rash may be severe and may require discontinuation of treatment.
Erlotinib is not recommended for use during pregnancy. It may cause harm to a fetus or a miscarriage. Women of childbearing age should use reliable form(s) of birth control during treatment and for at least 2 weeks following the end of treatment with this drug.
It is not known whether this drug passes into breast milk. Breast-feeding while using this drug is not recommended.