Ofev®
This product is manufactured by Boehringer Ingelheim (Canada) Ltd. using the ingredient nintedanib.
This product is taken orally.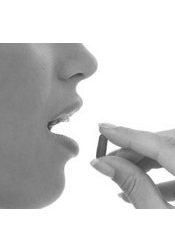 play
orally
Why is it prescribed?
Nintedanib is used for the treatment of Idiopathic Pulmonary Fibrosis or IPF.
---
Take Ofev® every 12 hours at about the same times every day.
Swallow the capsules whole with water. Do not chew or crush.
If you have forgotten to take your dose, carry on and take your next dose at the usual time. Do not double dose.
Store at room temperature in the original blister. Protect from moisture.

Alternatives
See other products used in the treatment of •pulmonary fibrosis •

Adult dose: 150mg by mouth twice daily. Use is not recommended in children and adolescents.
Nintedanib is a kinase inhibitor. It blocks some of the mechanisms behind the formation of fibrous tissue in the lungs. This slows the progression and eases the symptoms of Idiopathic Pulmonary Fibrosis (IPF).
The most common side effects of nintedanib are:
diarrhea, nausea, stomach pain, vomiting
liver problems
decreased appetite
headache,
weight loss.
Nintedanib may cause serious side effects, including:
liver problems. Call your doctor right away if you have unexplained symptoms such as yellowing of your skin or the white part of your eyes (jaundice), dark or brown (tea colored) urine, pain on the upper right side of your stomach area (abdomen), bleeding or bruising more easily than normal, or feeling tired.
heart attack. Tell your doctor right away if you have symptoms of a heart problem. These symptoms may include chest pain or pressure, pain in your arms, back, neck or jaw, or shortness of breath.
stroke. Tell your doctor right away if you have symptoms of a stroke. These symptoms may include numbness or weakness on 1 side of your body, trouble talking, headache, or dizziness.
bleeding problems. Tell your doctor if you have unusual bleeding, bruising, or wounds that do not heal.
tear in your stomach or intestinal wall (perforation). Tell your doctor if you have pain or swelling in your stomach area.
Do not use nintedanib if you are allergic to it, to peanuts, or to soy.
Before you take nintedanib, tell your doctor if you:
have liver problems
have heart problems
have a history of blood clots
have a bleeding problem or a family history of a bleeding problem
have had recent surgery in your stomach (abdominal) area
are a smoker
have any other medical conditions
Some medications may interact with nintedanib. Consult your doctor or pharmacist if you are taking:
Ketoconazole
Erythromycin
Rifampicin
Carbamazepine
St. John wort
Use in pregnancy - nintedanib can cause birth defects. Women should not become pregnant while taking nintedanib. Women who are able to become pregnant should use birth control during treatment and for at least 3 months after treatment. If you become pregnant while taking nintedanib, tell your doctor right away.
Use in breastfeeding: It is not known if nintedanib passes into breast milk. Use is not recommended.