Incruse® Ellipta®
This product is manufactured by GlaxoSmithKline using the ingredient umeclidinium bromide.
This product is inhaled into the lungs using the Ellipta®.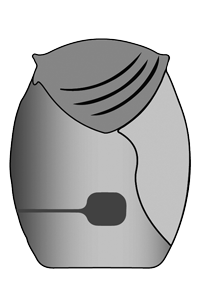 play
Ellipta®
Why is it prescribed?
Umeclidinium bromide is an anticholinergic long-acting bronchodilator used for the maintenance treatment of symptoms such wheezing and shortness of breath caused by COPD.
---
Incruse® Ellipta® is supplied as a disposable light grey and pale blue plastic inhaler containing 2 double-foil strips, each with 30 blisters. The inhaler should be stored inside the unopened moisture- protective foil tray and only removed from the tray immediately before using for the first time. Discard the inhaler 6 weeks after opening the foil tray or when the counter reads zero (after all blisters have been used), whichever comes first.
Proper use of the inhaler device is key to getting the most from the medication. Have your pharmacist provide you with instructions on proper inhaler technique.
Use your inhaler once daily at the same time each day. Do not take more than one dose each day.
Do not use:

If you are allergic to any of the medicinal or nonmedicinal ingredients contained in the product.
 If you have a lactose or severe milk protein allergy.
 If you are younger than 18 years of age.

If you notice your breathing getting worse, contact your health care provider.
Alternatives
Other products that have the same ingredient as Incruse® Ellipta® are •Anoro® Ellipta® •Trelegy® Ellipta® •
See other products used in the treatment of •bronchitis •COPD •emphysema (COPD) •

Recommended dosage for adults over 18 years of age: one inhalation through the mouth once daily. (It should be taken on a continual basis to control COPD symptoms)
Incruse® Ellipta® should be taken at the same time each day. Do not use Incruse® Ellipta® more than one time in 24 hours.
Umeclidinium bromide is a long-acting antimuscarinic agent, often referred to as an anticholinergic. Inhaled umeclidinium bromide causes bronchodilation (relaxation of airway smooth muscle), improved lung function, and decreased mucous secretion.
Possible side effects include:
sore throat
diarrhea
pain in extremity
muscle spasms
neck pain
chest pain
sinusitis
lower respiratory tract infection
constipation
Tell your doctor or get medical help right away if you have any of the following signs or symptoms that may be related to a very bad side effect:
Signs of an allergic reaction, like rash; hives; itching; red, swollen, blistered, or peeling skin with or without fever; wheezing; tightness in the chest or throat; trouble breathing or talking; unusual hoarseness; or swelling of the mouth, face, lips, tongue, or throat.
Bruising of skin.
Chest pain or pressure or a fast heartbeat.
A heartbeat that does not feel normal.
Shakiness.
Change in eyesight, eye pain, or very bad eye irritation.
Seeing halos or bright colors around lights.
Not able to pass urine or change in how much urine is passed.
Pain on urination
Trouble breathing
Umeclidinium bromide must be used regularly to be effective. It does not work immediately and should not be used to relieve sudden shortness of breath. If sudden breathing problems occur, use your quick-relief inhaler.
Umeclidinium may cause paroxysmal bronchospasm in some patients. If this happens, discontinue use.
Umeclidinium should be used cautiously in patients with narrow-angle glaucoma. If symptoms of acute narrow-angle glaucoma such as, eye pain, visual halos, or blurred vision develop, consult your physician immediately.
Umeclidinium should be used cautiously in patients who have urinary retention. If passing urine becomes difficult, or painful, consult your physician immediately.
Drug interactions:
Consult your doctor or pharmacist if you are taking
acetylcholinesterase inhibitors (e.g., donepezil, galantamine, rivastigmine)
antihistamines
antipsychotics (e.g., chlorpromazine, clozapine, haloperidol, olanzapine, quetiapine, risperidone)
azelastine
benztropine
cyclobenzaprine
darifenacin
disopyramide
fesoterodine
glycopyrrolate
ipratropium
ketotifen
metoclopramide
mirabegron
orphenadrine
oxybutynin
potassium chloride
scopolamine
solifenacin
thiazide diuretics hydrochlorothiazide, indapamide, metolazone)
tiotropium
tolterodine
topiramate
tranylcypromine
tricyclic antidepressants (e.g., amitriptyline, clomipramine, desipramine, trimipramine)
trospium
Use in pregnancy: There are no adequate and well-controlled studies in pregnant women. Umeclidinium should be used during pregnancy only if the expected benefit to the mother justifies the potential risk to the fetus. Check with your doctor or pharmacist before use.
Use in breastfeeding: It is not known if umeclidinium is passed into breast milk; however, systemic absorption following oral inhalation is negligible. Check with your doctor or pharmacist before use.