Daxas®
This product is manufactured by Takeda Canada using the ingredient roflumilast.
This product is taken orally.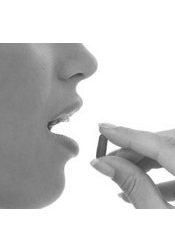 play
orally
Why is it prescribed?
Roflumilast is indicated as add-on therapy to bronchodilator treatment for the maintenance treatment of severe chronic obstructive pulmonary disease (COPD) associated with chronic bronchitis (i.e. patients with a history of chronic cough and sputum) in patients 18 years and older with a history of frequent flare-ups.
---
Always take Daxas® exactly as your doctor has told you. It is meant to be taken on a regular basis to control your condition. Swallow the tablets whole with water. They can be taken with or without food. If you forget to take a tablet at the usual time, take the tablet as soon as you remember. If on one day you have forgotten to take a tablet, just carry on the next day with the next tablet as usual. Continue taking your medicine at the usual times. Do not take a double dose to make up for a forgotten dose.You should check with your doctor or pharmacist if you have any other questions about how to take Daxas®.
Do not take more tablets than your doctor has recommended. Store at room temperature out or reach of children.
Alternatives
See other products used in the treatment of •COPD •

The recommended dosage for patients over 18 years of age with COPD is 500 mcg per day, with or without food.
Roflumilast is a selective Phosphodiesterase 4 (PDE4) Inhibitor. It is an anti-inflammatory medication which helps reduce the risk of flare-ups and worsened breathing problems in people with severe chronic obstructive pulmonary disease (COPD).
The most common side effects are:
diarrhea
weight loss
nausea
dizziness
headache
abdominal or back pain
tremor
irregular heart beat
Patients who take roflumilast may be at increased risk of mental or mood changes, including suicidal thoughts or actions. The risk may be greater in patients who have had these problems in the past. Watch patients who take roflumilast closely. Contact the doctor at once if new, worsened, or sudden symptoms, such as depressed mood, anxious behavior, trouble sleeping, or any unusual change in mood or behavior occur. Contact the doctor right away if any signs of suicidal thoughts or actions occur.
Roflumilast should not be used for the relief of a sudden attack of shortness of breath. A rescue inhaler should be available for those situations.
It should not be used on its own but rather, as add-on therapy to bronchodilator treatment. Do not use more frequently than once daily.
Use is not recommended in the following situations:
allergy to roflumilast or to any ingredient in the formulation
moderate to severe liver disease
Caution is recommended in the following situations:
mild to moderate liver disease
history of mental illness, including depression
fast or irregular heart beat
severe immunological diseases eg HIV
The following drugs and drug classes have been known to interact with rofumilast:
Cimetidine, enoxacin, erythromycin, fluvoxamine, itraconazole, or ketoconazole - they may increase the risk of roflumilast's side effects
Carbamazepine, phenytoin, phenobarbital, primidone, rifampin, or St. John's wort - they may decrease roflumilast's effectiveness
Use in pregnancy and breastfeeding: Insufficient evidence exists to establish safety in pregnancy and breastfeeding. Consult doctor or pharmacist before use.