Uptravi® tablets
This product is manufactured by Actelion Pharmaceuticals Canada Ltd. using the ingredient selexipag.
This product is taken orally.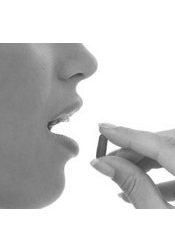 play
orally
Why is it prescribed?
Selexipag is used to treat pulmonary arterial hypertension (PAH) in adults.
---
Take in the morning and in the evening, either with or without meals. It may be tolerated better when taken with meals.
Swallow the tablets whole with a glass of water.
Do not split, crush or chew the tablets.
If you forget to take a dose, take it as soon as you remember. Continue to take your next dose at the usual time.
If it is nearly time for your next dose (within 6 hours before you would normally take it), skip the missed dose. Continue to take your next dose at the usual time.
Contact your doctor right away if you miss doses for more than 3 days in a row.
Do not take a double dose to make up for a forgotten tablet.
Keep out of reach and sight of children.
Do not use after the expiration date, which is stated on the carton and on the blister after "EXP." The expiration date refers to the last day of that month.
Store at room temperature (15 to 30°C) in its original package.
Alternatives
See other products used in the treatment of •primary pulmonary hypertension •secondary pulmonary hypertension •

The starting dose of Uptravi® is 200 mcg twice daily. The dose is then increased by 200mcg twice daily every week to the highest dose tolerated up to a maximum dose of 1,600mcg twice daily. The long-term (i.e. maintenance) dose is determined by how well the side effects are tolerated.
Selexipag is an oral prostacyclin IP receptor agonist which widens the arteries that carry blood from the heart to the lung and reduces their hardening. This makes it easier for the heart to pump blood through the pulmonary arteries.
Common side effects
Headache
Diarrhea
Jaw pain
Nausea
Muscle pain
Vomiting
Pain in Extremity
Flushing
Joint pain
Anemia
Decreased appetite
Rash
Talk to your healthcare professional before you take selexepag if you:
have low blood pressure
have liver problems
have kidney problems or are on dialysis
have narrowing of the pulmonary veins, a condition called pulmonary veno-occlusive disease (PVOD)
have overactive thyroid gland
are pregnant or plan to become pregnant
are breastfeeding or plan to breastfeeding
Drug interactions - The following may interact with selexepag:
Gemfibrozil
Valproic acid
Rifampicin
Use in pregnancy: At this time, there is a limited amount of information on the use of selexipag in pregnant women and use is not recommended.
Use in breastfeeding: it is not known whether selexipag is found in human milk and use is not recommended.