Making Visible the Life Stories of Families of Children Who Are Immunocompromised (IC) During COVID-19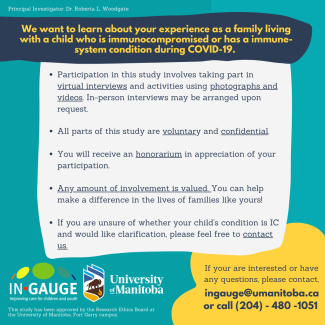 About the Study
Researchers at the University of Manitoba are interested in learning about the experiences families are having during the COVID-19 pandemic if living with a child who is immunocompromised or has an immune system condition.
Participation in the study involves taking part in virtual interviews and activities using photographs and videos. In-person interviews may be arranged upon request.
Honorariums will be provided in appreciation of participation in this study.
How to Participate
To participate in this study, email the research team with your interest at ingauge@umanitoba.ca or call 204-480-1051.
---