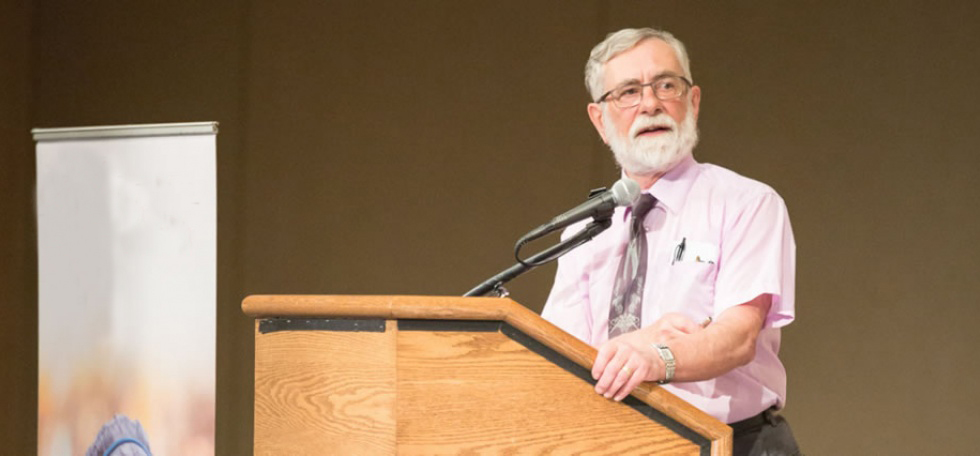 Dr. Cockcroft is a respirologist and world-renowned asthma researcher.  His interests focus on clinical investigations in asthma, primarily bronchoprovocation with methacholine and other nonallergic stimuli, and the development and use of the allergen challenge model.  His research advances in asthma diagnosis and care have impacted clinical practice for this disease in Saskatchewan, Canada, and around the world.
Can you explain your current area of research? 
I am interested in asthma and in particular in BRONCHOPROVOCATION.  We continue to do studies with methacholine inhalation, a test to measure general (or non-allergic) airway responsiveness.   Most of these studies are relatively small studies suitable for student projects and are mostly dealing with methodologic aspects of the test, e.g. how long to hold treatment prior to performing a test, etc.
The second area of research is with the AllerGen NCE (National Centres of Excellence) clinical investigative collaborative.  This is a multicentre group looking at new potential asthma drugs using the allergen bronchoprovocation model.
What drew you to this area of research? 
My studies with Dr. Freddy Hargreave (1975-1977, Hamilton Ontario) changed my thoughts completely regarding research and stimulated an extremely interesting research career.
What is the potential impact of your research on Saskatchewan residents? 
Improved diagnostic accuracy of the methacholine test (basically functioning best to RULE OUT current asthma)
New asthma medication may eventually become available
What are the next steps in your research, or what other questions are you looking forward to investigating?
More of the same.
Throughout your career as a researcher you have published hundreds of journal articles.  What research have you been most proud of over your whole career?
Allergen challenge increased airway response to methacholine (1977). This is important in explaining how allergen exposure can worsen asthma.
Regular use of beta-agonist bronchodilators makes them LESS EFFECTIVE in preventing induced bronchoconstriction (TOLERANCE).
Regular use of beta-agonist bronchodilators makes the airways twice as responsive to allergens (1992).  This is the main reason (we think) that overuse of bronchodilators can make asthma worse.
Deep inhalation of methacholine (during the challenge test) can protect against the bronchoconstrictive effect.  This results in falsely negative tests (2005-2006).
Creatinine clearance formula (1976 resident research project !!!).
Dr. Don Cockcroft
Dr. Cockcroft has been a Professor in the Division of Respirology, Critical Care and Sleep Medicine, Department of Medicine, at the University of Saskatchewan since 1977. 
Training includes MD, 1970, University of British Columbia; Internal Medicine, Royal Victoria Hospital, Montreal; Clinical Allergy Training, 1973-1974, Royal Victoria Hospital, Montreal; Clinical Respiratory Training, 1974-1975, St. Paul's Hospital, Vancouver; Respiratory and Allergy (Asthma) research 1975 to 1977 with Freddy Hargreave, McMaster University, Hamilton.  
He is a Fellow of the American Academy of Asthma, Allergy and Immunology, the American College of Allergy, Asthma and Immunology, and the American College of Chest Physicians.  Dr. Cockcroft is a Past-President of the Canadian Thoracic Society and a former Head of the Division of Respirology, Critical Care and Sleep Medicine and a member of the CTS, the CSACI, the ATS and the ERS.
Dr. Cockcroft has co-authored in excess of 100 book chapters/review articles, more than 280 peer-reviewed research papers, and has presented approximately 300 invited lectures at regional, national and international meetings.  He also grows prize-winning lilies.