Drs. Oleg Dmitriev, Franco Vizecoumar, and Andrew Freywald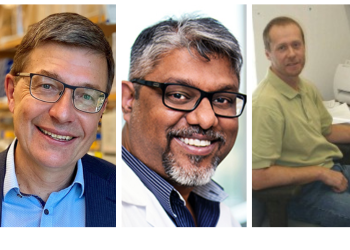 Lung cancer is a leading cause of cancer related deaths in Saskatchewan and in Canada as a whole.
Lung cancer describes the growth of abnormal cells inside the lung. These abnormal cells divide and grow more quickly than normal cells to form a tumour.
In their project titled A Novel Biomarker for Personalized Chemotherapy of Lung Cancer, principle investigators Dr. Oleg Dmitriev, Dr. Franco Vizecoumar, and Dr. Andrew Freywald from the University of Saskatchewan will be studying the effects of cancer drugs on a protein seen in lung cancer. The goal of this research is to understand how to better target treatment using specific drugs to allow for improved management of lung cancer.
Hope for the Future
It is the hope of this team that their research will help identify new medications that will effectively treat  lung cancer in the future.