Giotrif®
This product is manufactured by Boehringer Ingelheim (Canada) Ltd. using the ingredient afatinib.
This product is taken orally.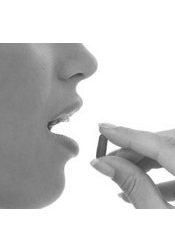 play
orally
Why is it prescribed?
Afatinib is used to treat non-small cell lung cancer (NSCLC) that has metastasized (spread to other parts of the body). It is used:
As first-line treatment in patients with tumors that have certain epidermal growth factor receptor (EGFR) gene mutations.
It can also be used In patients with squamous NSCLC that worsened after treatment with platinum chemotherapy.
---
Do not break or crush the tablet.
 Swallow the tablet whole with a glass of water.
If you miss a dose, take it as soon as you remember. If it is close to your next dose (within 8 hours), skip the dose and just take your next dose at your regular time. Do not take 2 doses at the same time.
If you throw up after taking this medication, do NOT take a replacement tablet. Just take your next dose at your regular time.
Store at 15 – 30 degrees C.
Open only one pouch at a time until all the tablets in the blister card are used before opening the next pouch.
Store the blister card in the original package in order to protect from moisture and light.
Alternatives
See other products used in the treatment of •non-small cell lung cancer •

The recommended starting dose of Giotrif is 40 mg by mouth once daily. Take on an empty stomach at least 1 hour before or 3 hours after eating.
Afatinib belongs to the class of anti-cancer medications called protein kinase inhibitors. It attaches to epidermal growth factor receptor (EGFR) molecules that have certain kinds of mutations. It then helps block cancer-causing signals that come from these molecules.
The most common side effects:
diarrhea
rash
mouth sores
nail inflammation
dry skin
acne
decreased appetite,
nausea, vomiting
itching
Other possible side effects:
Inflammation of the urinary bladder resulting in a burning sensation during urination and frequent urgent need to urinate
dehydration
Low blood potassium levels
Taste disturbance or loss of taste
Inflammation or infection of the membrane lining the eyelids
Dry eye;
Runny nose;
Indigestion, stomach pain;
Inflammation of the lips;
Redness, swelling, and pain on the palms of the hands and/or the soles of the feet
Muscle spasm;
Kidneys not working properly or failing;
Fever or high temperature;
weight loss
Increase in liver enzymes;
Inflammation of the cornea;
Inflammation or scarring of the lungs
Nail disorders
Use afatinib with caution if you:
have liver disease or kidney disease;
have a dairy or lactose intolerance;
have a history of lung inflammation (interstitial lung disease)
have a history of severe dry eye or eye inflammation (keratitis) or use contact lenses;
have heart problems;
are female and have a body weight of less than 50 kg
Drug interactions - The following may interact with afatinib. Discuss use with your physician or pharmacist:
Antifungals (such as ketoconazole, itraconazole);
Macrolide antibiotics such as clarithromycin and erythromycin
Drugs to treat tuberculosis (TB) (such as rifampicin);
Drugs to treat HIV-AIDS and viral infections (such as nelfinavir, saquinavir);
Calcium channel blockers (such as verapamil);
Antiarrhythmics (such as quinidine, amiodarone);
Anticonvulsants (such as carbamazepine, phenytoin and phenobarbital);
Cancer drugs;
Immunosuppressants (such as tacrolimus);
Atorvastatin
St. John's Wort.
Use in pregnancy: There are no studies on the use of afatinib in human pregnancy. The animal data suggest risk, so at this time, use during pregnancy is not advised. Female patients using afatinib are advised to use highly effective birth control methods during use and for 2 weeks after discontinuation.
Use in breastfeeding: It is not known if afatinib passes into breast milk. Due to the potential for serious harm to a baby if they are exposed to this medication, use is not recommended.