Opsumit® tablets
This product is manufactured by Actelion Pharmaceuticals Canada Ltd. using the ingredient macitentan.
This product is taken orally.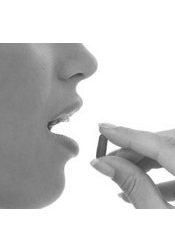 play
orally
Why is it prescribed?
Macitentan is used to treat pulmonary arterial hypertension (PAH). PAH is defined by high blood pressure in the lungs caused from the pulmonary arteries— the blood vessels that carry blood from the heart to the lungs—becoming narrowed or scarred.
---
The usual dosage is 10 mg taken by mouth, once daily.
Macitentan is an endothelin receptor antagonist (ERA) that lowers blood pressure in the lungs, making it easier for the heart to pump more efficiently. Macitentan helps prevent blood vessels from narrowing by blocking endothelin, a protein that causes blood vessels in the lungs to narrow. This may help to slow pulmonary arterial hypertension (PAH) progression and decrease symptoms.
Common side effects:
Headache
Irritation of the airways and nasal passages
Flu-like symptoms
Fluid retention
Urinary tract infection
Seek medical attention immediately if you develop:
Symptoms of worsening PAH, including: difficulty breathing, fluid retention or weight gain, and/or dizziness or passing out
An allergic reaction, including: swelling of the mouth, tongue, face, and throat; itching; rash; and/or difficulty breathing
Do not take macitentan if you:
Are allergic to macitentan
Are pregnant or breastfeeding
Have severe liver disease
Drug Interactions: These medications MAY interact with macitentan
rifampin
some medications used to treat fungal infections e.g. ketoconazole and voriconazole
some medications used to treat HIV infection e.g. darunavir, ritonavir, and nelfinavir
some medications for seizure disorders e.g. phenytoin and carbamazepine
Use in pregnancy: Macitentan can cause serious birth defects if taken during pregnancy. Females who are able to get pregnant must take a pregnancy test before starting macitentan. Monthly pregnancy tests during treatment are recommended to allow the early detection of pregnancy. Reliable forms of contraception must be used when on macitentan.
Use in breastfeeding: It is not known if macitentan can pass into breast milk. Therefore, breastfeeding is not recommended.