Drs. Shelley Kirychuk, Kerry McPhedran, Lori Bradford, and Wanda Martin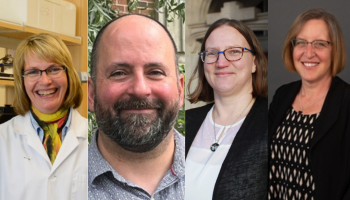 Housing and house conditions on First Nations communities are important determinants of health for community members. 
In their project titled Enhancing Wellness in our Miyo Wāskahikan, principle investigators Dr. Shelley Kirychuk, Dr. Kerry McPhedran, Dr. Lori Bradford, and Dr. Wanda Martin from the University of Saskatchewan will bring together First Nations community leaders and members, academics, home builders and home-maintenance providers, wellness providers, training and program development providers and policy influencers in the address and redress of these significant determinant of health outcomes.
Hope for the Future
It is the hope of this team that this research will help to develop, action, and evaluate a framework to address and redress on-reserve housing builds and housing maintenance for better health outcomes.
In addition to the Saskatchewan Health Research Foundation, this project is a partnership with Jim Pattison Children's Hospital Foundation, Lung Saskatchewan, Alzheimer Society of Saskatchewan, Heart and Stroke Foundation, Multiple Sclerosis Society of Canada, Hospitals Foundation of Regina and the Royal University Hospital Foundation.