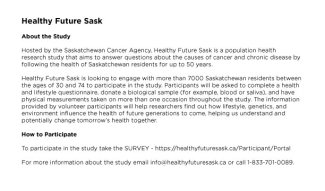 About the Study
Hosted by the Saskatchewan Cancer Agency, Healthy Future Sask is a population health research study that aims to answer questions about the causes of cancer and chronic disease by following the health of Saskatchewan residents for up to 50 years.
Healthy Future Sask is looking to engage with more than 7000 Saskatchewan residents between the ages of 30 and 74 to participate in the study. Participants will be asked to complete a health and lifestyle questionnaire, donate a biological sample (for example, blood or saliva), and have physical measurements taken on more than one occasion throughout the study. The information provided by volunteer participants will help researchers find out how lifestyle, genetics, and environment influence the health of future generations to come, helping us understand and potentially change tomorrow's health together.
How to Participate
To participate in the study take the SURVEY.
For more information about the study email info@healthyfuturesask.ca or call 1-833-701-0089.
---