Trelegy® Ellipta®
This product is manufactured by GlaxoSmithKline and is a combination of 3 ingredients, fluticasone furoate, vilanterol trifenatate, and umeclidinium bromide.
This product is inhaled into the lungs using the Ellipta®.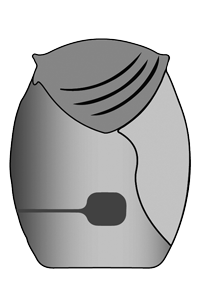 play
Ellipta®
Why is it prescribed?
Trelegy® Ellipta® is used in adults for the long-term treatment of Chronic Obstructive Pulmonary Disease or COPD in patients who are not adequately treated by other combination medications.
---
For information on using the Ellipta device, see information in the inhaler section of this website.
Keep your inhaler in a cool dry place away from direct heat or sunlight. Keep it closed when not in use.
Do not store TRELEGY ELLIPTA above 30°C. If you store in a refrigerator, allow the inhaler to return to room temperature for at least an hour before use.
Store in the original package container in order to protect from moisture and do not open the foil lid until ready for first use.
Once the tray is opened:
You can use the inhaler for up to 6 weeks, starting from the date you opened the lid of the tray.
Write the date the inhaler should be discarded on the inhaler in the space provided.
Safely discard when the dose counter reads "0" or 6 weeks after you open the lid of the tray, whichever comes first.
Alternatives
See other products used in the treatment of •allergic rhinitis •allergies •asthma •hay fever •perennial rhinitis •seasonal allergies •seasonal rhinitis •bronchitis •COPD •emphysema (COPD) •

This medication is for use in people 18 years of age and older. The recommended and maximum dose is one inhalation once daily.
Trelegy® Ellipta® contains three active ingredients, fluticasone furoate, umeclidinium and vilanterol.
Fluticasone furoate is an inhaled corticosteroid (ICS). It reduces inflammation in the airways of the lungs, which can ease breathing problems, and helps prevent "flare-ups" in COPD.
Umeclidinium is a long-acting muscarinic antagonist (LAMA) and vilanterol is a long- acting beta2-agonist (LABA). These two medicines work together to help open the airways and make it easier for air to get in and out of the lungs.
Side effects may include:
infection of the nose, sinuses or throat
nflammation of the sinuses
inflammation of the lungs (bronchitis)
infection of the upper airways
itchy, runny or blocked nose
flu (influenza)
common cold
headache
cough
painful and frequent urination (may be signs of a urinary tract infection)
joint pain
back pain
pain in the back of the mouth and throat
constipation
dry mouth
hoarseness
Do not useTrelegy® Ellipta®:
To treat sudden severe symptoms of COPD such as sudden shortness of breath or wheezing. This is not a rescue inhaler and should not be used to give you fast relief from your COPD. You must use a rescue inhaler during sudden COPD flare-ups. Keep this rescue medication with you at all times.
To treat asthma.
If you are allergic to fluticasone furoate, umeclidinium, vilanterol or any of the non-medicinal ingredients contained in the product.
If you have a lactose or severe milk protein allergy.
If you are younger than 18 years of age.
Call your doctor right away if your breathing problems get worse, if your rescue inhaler does not work as well, or if you need to use your rescue inhaler more often.
If you have high blood sugar (diabetes), you will need to watch your blood sugar closely.
Do not take more of this drug or use it more often than you have been told.
Long-term use may raise the chance of cataracts or glaucoma.
Have an eye exam as you have been told by your doctor.
This drug may cause weak bones (osteoporosis) with long-term use. Talk with your doctor to see if you have a higher chance of weak bones or if you have any questions.
Drug Interactions:
Other medications that contain a long-acting beta2-adrenergic agonist (LABA) (e.g., salmeterol, formoterol fumarate, indacaterol, olodaterol), or a long-acting muscarinic antagonist (LAMA) (e.g., tiotropium, glycopyrronium, aclidinium, umeclidinium).
Ketoconazole, itraconazole and voriconazole used to treat fungal infections;
Medicines used to treat HIV/AIDS (i.e. ritonavir, indinavir, lopinavir, nelfinavir, saquinavir, atazanavir, cobicistat-containing products);
Clarithromycin
Beta-blockers e.g., propranolol)
Medicines that decrease the level of potassium in your blood (i.e., diuretics).
antidepressants
Pregnancy: Animal reproduction studies have not been conducted with this product. Consult with doctor/pharmacist before use.
Breastfeeding: The decision to breastfeed during therapy should consider the risk of infant exposure, the benefits of breastfeeding to the infant, and benefits of treatment to the mother. Consult with doctor/pharmacist before use.