Seebri® Breezhaler®
This product is manufactured by Novartis using the ingredient glycopyrronium bromide.
This product is inhaled into the lungs using the Breezhaler®.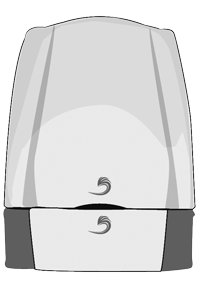 play
Breezhaler®
Why is it prescribed?
Glycopyrronium bromide is intended for long-term treatment of Chronic Obstructive Pulmonary Disease including chronic bronchitis and emphysema in adults 18 years of age and older.
---
Seebri® Breezhaler® contains glycopyrronium bromide which belongs to a group of medicines called bronchodilators. In COPD, the muscles around the airways tighten, making breathing difficult. Seebri® Breezhaler blocks tightening of these muscles in the lungs, making it easier for air to get in and out of the lungs.
Seebri® Breezhaler® comes with capsules inside of foil blister packs and a Breezhaler® inhalation device. The capsules contain the medication and are meant to be placed within the Breezhaler, punctured, and then inhaled to deliver the medication to the lungs.
Following the proper technique for using the Seebri® Breezhaler® is essential for getting the most benefit from the medication. Your pharmacist can demonstrate and guide you through the proper use of the Breezhaler®.
Avoid getting the drug powder into your eyes. This may result in eye pain and/or discomfort, temporary blurring of vision, and/or coloured images in association with red eyes. These may be signs of acute narrow-angle glaucoma. Should any of these symptoms develop, consult a doctor immediately.
The capsules must be stored in the blister (not in the inhaler) and only remove immediately before use.
Store inhaler and capsules at room temperature away from moisture.
Never wash the inhaler with water.
Alternatives
Other products that have the same ingredient as Seebri® Breezhaler® are •Enerzair® Breezhaler® •Ultibro® Breezhaler® •
See other products used in the treatment of •chronic bronchitis (COPD) •COPD •emphysema (COPD) •

Seebri® Breezhaler® is for patients with COPD who are 18 years of age and older. The dose is 50mcg by inhalation once daily.
Glycopyrronium bromide is a long-acting anti-muscarinic bronchodilator. By blocking bronchoconstriction in the lungs, glycopyrronium bromide opens the airways to making breathing easier.
Glycopyrronium bromide may cause some unwanted effects. Contact your physician if these persist or are bothersome:
throat irritation
dry mouth
upset stomach
sinus congestion
pain in arms or legs
difficulty sleeping
nose bleeds
rash
symptoms of common cold
It is important to take glycopyrronium bromide only once daily, as your doctor has prescribed.
Glycopyrronium bromide is intended for maintenance therapy and cannot be used to treat a sudden episode of shortness of breath or difficulty breathing.
Do not use this medication if:
you have an allergy to glycopyrronium
you are less than 18 years of age
Consult your doctor or pharmacist before using if you:
have heart problems particularly fast or irregular hearbeat
have enlarged prostate or urinary problems
have glaucoma
have kidney problems
Drug interactions - Use of the following are not recommended with glycopyrronium:
atropine or other anticholinergics (ipratropium, oxitropium, tiotropium, etc.).
Use in pregnancy and breastfeeding. Human data is limited. Check with your doctor or pharmacist before use.