COPD Care in Saskatchewan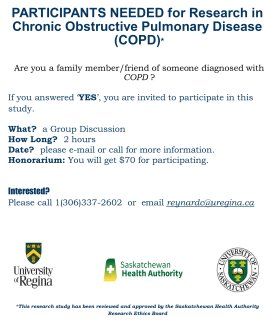 About the Study
Close to 1 in 10 Saskatchewan residents over the age of 45 years are living with chronic obstructive pulmonary disease (COPD), a number that is expected to climb over the next number of years.
Dr. Elizabeth Cooper and her research team from the University of Regina are looking at COPD care in Saskatchewan to better understand what care and supports are available in the province for those living with, and caring for, someone with COPD.
If you are a family member or friend of someone diagnosed and living with COPD, these researchers want to hear from you!
How to Participate
For more information, and to participate in this study, please call 1 (306) 337-2602 or email reynardc@uregina.ca.
---