Tamiflu® capsules
This product is manufactured by Hoffman-LaRoche using the ingredient oseltamivir.
This product is taken orally.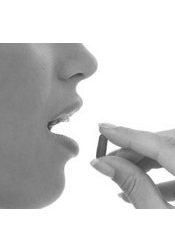 play
orally
Why is it prescribed?
Oseltamivir is used for the treatment of uncomplicated acute illness due to influenza infection in adults and children over 1 year of age who have been symptomatic for no more than 2 days. Oseltamavir when taken as recommended for the treatment of influenza, alleviates the symptoms and reduces their duration.
It is also used to prevent the onset of influenza in adults and children over 1 year of age who have been in contact with people who have influenza.
---
Use Tamiflu® exactly as prescribed by your doctor.
Treatment with Tamiflu® should begin no more than 2 days after flu symptoms (e.g. sudden onset of fever, headache, tiredness, muscle weakness, runny or stuffy nose, sore throat and cough) have started to appear.
Prevention with Tamiflu® should begin within 2 days after coming into contact with someone with flu symptoms.
Tamiflu® can be taken with food to reduce stomach upset.
You must complete the entire treatment. If you forget to take a dose of Tamiflu® take it as soon as possible. Do not take double the amount if you miss one dose.
If Tamiflu® oral suspension is not available, and if directed by your doctor or pharmacist, you may mix the contents of Tamiflu® capsules with sweetened liquids to prepare an oral suspension for children, immediately before dosing.
Please follow your doctor's (pharmacist's) instructions carefully to ensure proper dosing:

Holding one capsule over a small bowl, carefully pull the capsule open and pour the complete contents of the capsule into the bowl.
Add a small amount of a sweetened liquid such as chocolate syrup (regular or sugar- free) that the child will consume completely.
Stir the mixture and give the entire dose to the child.
Rinse the bowl with a bit of sweetened liquid and administer the rinse to the child.

Keep Tamiflu® in the original labeled container at room temperature (15 to 30 degrees centigrade) and keep in a dry place.
Alternatives
Other products that have the same ingredient as Tamiflu® capsules are •Mint-oseltamivir capsule •Nat-Oseltamivir Capsule •Tamiflu® suspension •
See other products used in the treatment of •flu •influenza •

Treatment of Influenza:
Adults and adolescents 13 years and older
75 mg twice daily (in the morning and evening) for 5 days.
Children ages 1 to 12 years - Dosage is based on weight:
≤15 kg - 30 mg twice daily
>15 kg to 23 kg - 45 mg twice daily
>23 kg to 40 kg - 60 mg twice daily
>40 kg - 75 mg twice daily
Prevention of Influenza:
Adults and adolescents over 13 years of age:
75mg once daily for 10 to 14 days
Children 1 to 12 years of age - Dosage is based on weight and duration is 10-14 days
≤15 kg - 30 mg once daily
> 15 kg to 23 kg - 45 mg once daily
> 23 kg to 40 kg - 60 mg once daily
> 40 kg - 75mg once daily

Oseltamivir works by inhibiting an enzyme necessary for the flu virus to spread through the body.
Along with its needed effects, oseltamivir may cause some unwanted or undesirable effects. Generally, oseltamivir is well tolerated and many people will not experience unwanted effects. Possible unwanted effects include:
nausea
vomiting
diarrhea
stomach pain
Uncommon:
dizziness
headache
trouble sleeping at night
Rare:
Symptoms of skin reactions include flushing, rash, itching or swelling. Symptoms of hypersensitivity reactions include dizziness or breathing problems.
Cases of liver toxicity have also been reported, symptoms of which include yellowing of skin or eyes and dark urine. Contact a physician if you experience these symptoms.

​
Oseltamivir is not a substitute for the flu shot. You should continue to get your flu shot as recommended by your doctor.
Before starting treatment with oseltamivir, make sure your doctor and pharmacist know if you ever had a bad reaction to oseltamivir, you have hereditary fructose intolerence, you are allergic to other medicine, food and dyes, you have kidney disease.
Drug Interactions: It is important to tell your doctor and pharmacist of any prescription or over-the-counter medications you are taking. To date, there does not appear to be any significant drug interactions with oseltamivir.
Use is not recommended in the following situation:

allergy to oseltamivir of any component of the preparation or to the related drug zanamivir.

Caution is recommended in the following situations:

kidney failure
liver disease
chronic illnesses such as heart and/or lung disease.
Use in pregnancy: Oseltamivir may be used during pregnancy. Consult your doctor or pharmacist if you suspect you are pregnant.
Use while breastfeeding: Oseltamivir may be used if breastfeeding. Consult your doctor or pharmacist before use.