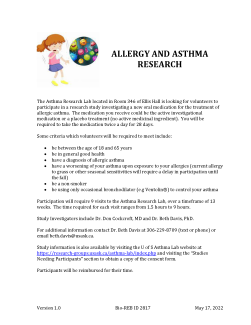 About the Study
Allergies and asthma often occur together. Some of the same substances that trigger allergy symptoms may also trigger asthma symptoms.
Researchers at the University of Saskatchewan Asthma Research Lab are looking for volunteers between the ages of 18 and 65 years of age to participate in a research study investigating a new oral medication for the treatment of allergic asthma.
How to Participate
For more information about this study, and to participate, please email investigator Dr. Beth Davis at beth.davis@usask.ca
Additional information about this study can be found at Asthma Research Lab.
---