Lorbrena™ tablets
This product is manufactured by Pfizer using the ingredient lorlatinib.
This product is taken orally.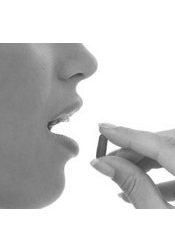 play
orally
Why is it prescribed?
Lorlatinib is used in adults patients to treat anaplastic lymphoma kinase (ALK)-positive non-small cell lung cancer (NSCLC). It is used only in certain circumstances:
If the cancer has spread to other parts of the body AND:

the cancer worsened after taking crizotinib and at least one other ALK tyrosine kinase inhibitor (TKI) medicine OR
the cancer has worsened on ceritinib or alectinib.
---
Swallow the tablets whole. Do not chew, crush or split them.
You may take the tablets with or without food.
You should not eat or drink grapefruit products during your treatment with Lorbrena. It may increase the amount of the medication in your blood to a harmful level.
If you vomit after taking a dose, do not take an extra dose; just take your next dose at your regular time.
If you miss a dose, take it as soon as you remember. If it is close to your next dose (within4 hours), just take your next dose at your regular time. Do not take two doses at the same time to make up for a missed dose.
Store at 15°C to 30°C in the original package to protect from light.
Keep out of reach and sight of children.


Alternatives
See other products used in the treatment of •non-small cell lung cancer •

The usual dose is 100 mg by mouth once daily.
Lorlatanib is an ALK tyrosine kinase inhibitors (TKI). It blocks the action of an enzyme called 'ALK tyrosine kinase'. By blocking this enzyme it may slow down or stop the growth of non-small cell lung cancer.

The most common side effects include:
feeling of numbness or pins and needles in the joints, arms or legs (peripheral neuropathy);
tiredness (fatigue);
weight gain;
pain in your joints;
muscle pain, back pain, pain in your arms or legs;
diarrhea;
nausea, vomiting;
headache;
dizziness;
rash.
Contact your health care provider immediately, day or night, if you should experience any of the following symptoms:
Fever of 100.4º F (38º C) or higher, chills (possible signs of infection)
New or worsening cardiac symptoms (slow or abnormal heart beats, dizziness, or fainting)
New or worsening respiratory symptoms (trouble breathing, shortness of breath, or cough)
Before starting lorlatinib, speak to your healthcare professional if you:
have high blood lipid levels (cholesterol or triglycerides). Lorlatinib may cause your blood lipid levels to increase
have heart problems as it may cause very slow or abnormal heartbeats.
have lung problems. Lorlatinib can cause severe inflammation of the lungs.
have liver problems;
have any other medical conditions;
are pregnant, or plan to become pregnant.
are breastfeeding or plan to breastfeed
Drug interactions - The following may interact with lorlatinib:
boceprevir, telaprevir, medicines used to treat hepatitis C;
conivaptan, a medicine used to increase sodium levels in hospitalized patients;
efavirenz, cobicistat, ritonavir, paritaprevir in combination with ritonavir and ombitasvir and/or dasabuvir, and ritonavir in combination with either danoprevir, elvitegravir, indinavir, lopinavir, saquinavir or tipranavir, medicines used to treat AIDS/HIV;
ketoconazole, itraconazole, voriconazole, posaconazole, medicines used to treat fungalinfections.
quinidine, a medicine used to treat irregular heartbeat and other heart problems;
pimozide, a medicine used to treat mental health problems;
alfentanil and fentanyl, medicines used to treat severe pain;
hormonal contraceptives
ciclosporin, sirolimus, and tacrolimus, medicines used in organ transplantation to prevent transplant organ rejection;
rifampicin, a medicine used to treat tuberculosis;
carbamazepine, phenytoin, medicines used to treat epilepsy;
enzalutamide, a medicine used to treat prostate cancer;
mitotane, a medicine used to treat cancer of the adrenal glands;
medicines containing St. John's wort (Hypericum perforatum, a herbal preparation);
grapefruit juice or any products containing grapefruit juice.
Safety in pregnancy: It is not safe to get pregnant or father a child while taking lorlatinib.
Females who are able to become pregnant must use effective, non-hormonal birth control during treatment and for at least 21 days after the final dose. If hormonal birth control use cannot be avoided, use condoms in addition to hormonal birth control for at least 21 days after the final dose.
Males who have pregnant partners or female partners who can become pregnant must use condoms during treatment and for at least 97 days after the final dose.
Safety in breastfeeding: It is not known if lorlatinib passes into breast milk. Do not breastfeed during treatment and for 7 days after the final dose.