Volibris® tablets
This product is manufactured by GlaxoSmithKline using the ingredient ambrisentan.
This product is taken orally.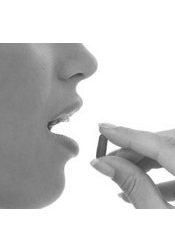 play
orally
Why is it prescribed?
Ambrisentan is used in adults to treat high blood pressure in the pulmonary arteries (pulmonary arterial hypertension).
---
Volibris® can be taken with or without food.
If you forget to take a dose,take as soon as you remember, then continue with the next dose at your usual time. Don't take two tablets at the same time to make up for a forgotten dose.
Volibris® may increase liver enzymes or cause anemia (reduction in red blood cells). Your doctor will do regular blood tests to check for any changes in your liver function and for anemia.

Alternatives
Other products that have the same ingredient as Volibris® tablets are •Apo-Ambrisentan tablets •
See other products used in the treatment of •primary pulmonary hypertension •secondary pulmonary hypertension •

Volibris® is started at a dose of 5 mg once daily. Additional benefit may be obtained by increasing the dose to 10 mg once daily. Patients with PAH associated with connective tissue disease may require 10 mg for best effects.
Ambrisentan is a specific, competitive endothelin receptor antagonist, with ETA receptor selectivity. It reduces high blood pressure by relaxing the pulmonary arteries. This makes it easier for the heart to pump blood to the lungs.
Side effects may include:
headache
nasal congestion (runny or blocked nose), red and sore throat, sinusitis
constipation, abdominal pain, nausea, vomiting  flushing (redness of the skin),
fluid retention (edema)
feeling tired or weak
palpitations (fast or irregular heartbeat)
vision changes, (blurry or other changes to vision)  ringing in the ears (tinnitus)
symptoms related to low blood pressure, like dizziness or fainting.
Ambrisentan should not be used in anyone less than 18 years of age. At this time, safety and effectiveness have not been established in this age group.
Do not take ambrisentan if you:
are allergic to ambrisentan or any ingredients in the tablet
have liver disease or abnormal liver test results.
have a lung condition called idiopathic pulmonary fibrosis (IPF)
Talk to your doctor or pharmacist if you:
have or ever had liver problems
have a low number of red blood cells (anemia)
have swelling (edema)
Drug Interactions: Check with your doctor or pharmacist if you are taking:
cyclosporine A
digoxin
rifampin
ketoconazole
sildenafil, tadalafil
warfari
omeprazole
oral contraceptives
Use in pregnancy and breastfeeding: Ambrisentan is not recommended for use if pregnant or breastfeeding. Please discuss this with your physician and pharmacist.