PDP-Pyrazinamide tablets
This product is manufactured by Pendopharm using the ingredient pyrazinamide.
This product is taken orally.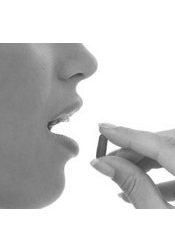 play
orally
Why is it prescribed?
Pyrazinamide is used in combination with other antitubercular medications to treat tuberculosis in adults and children.
---
It is very important to take PDP-Pyrazinamide exactly as directed by your doctor. Never stop taking the medication without permission.
Try not to miss any doses. If you do miss a dose of this medicine, take it as soon as possible. However, if it is almost time for your next dose, skip the missed dose and go back to your regular dosing schedule. Do not double dose(unless you have been instructed to do so); resume your normal dosing schedule.
Store at room temperature, away from heat and moisture.

Alternatives
See other products used in the treatment of •tuberculosis •

Treatment of tuberculosis (in combination with other antitubercular agents): The usual dose is 15 to 30 mg for each kilogram of body weight once daily (maximum 2000 mg/day) or a dose of 50-70 mg/kg (up to 4000 mg/dose) twice weekly.
Pyrazinamide is an antituberculosis drug that can be either bactericidal (kill bacteria) or bacteriostatic (inhibit bacterial growth), depending on the concentration of the drug in the body.
Along with its needed effects, pyrazinamide may cause some unwanted or undesirable effects. Pyrazinamide is generally well tolerated in most people. The frequency and severity of unwanted effects depend on many factors including dose, age of the person, existing health problems (e.g. gout, diabetes, liver disease) and individual response. Possible unwanted effects include:
liver damage (mild to serious)
mild joint pain
mild muscle pain
Uncommon:
gouty attack
vomiting
nausea
loss of appetite
Rare:
itching
rash
fever
acne
painful urination
If you are, or suspect you are experiencing any unwanted effects, report them to your doctor or pharmacist.
Pyrazinamide can cause liver damage that can sometimes only be detectable by lab tests. People can expect to have a liver tests before starting, and during therapy. People that have existing liver problems will be monitored more closely. Contact your doctor if you experience any of the following symptoms: fever, appetite loss, yellowing of the skin or eyes,darkened urine, unusual tiredness or weakness or pain or swelling of the joints occurs.
Pyrazinamide can cause a build up of uric acid in the body which can cause gouty attacks (accumulation of uric acid in some joints, causing pain) especially in people with a history of gout or in the elderly. Some people may also require blood work measuring the amount of uric acid in the body.
Use is not recommended in the following situations:
severe liver damage
allergy to pyrazinamide
existing gouty attack
Caution is recommended in the following situations:
kidney disease
history of gout
diabetes

Use in pregnancy: There is insufficient data to assess risk during pregnancy. Contact your doctor if you suspect you may be pregnant.
Use while breastfeeding: Pyrazinamide passes into breast-milk in small amounts. Contact your doctor or pharmacist before use.