Alecensaro®
This product is manufactured by Hoffman-LaRoche using the ingredient alectinib.
This product is taken orally.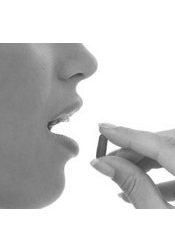 play
orally
Why is it prescribed?
This medication is used as a first treatment option in non-small cell lung cancer that has spread to other parts of the body (metastasized) or for which surgery is not appropriate and is anaplastic lymphoma kinase (ALK) positive. Alectinib can also used for this type of cancer when crizotinib treatment has not been successful or tolerated.
---
Swallow each capsule whole. Do not open or dissolve the capsules. Take with food.
If you forget to take a dose or if you vomit after taking a dose, take your next dose at your regularly scheduled time. Do NOT double up or take an extra dose.
This medication can cause your skin to become very sensitive to sunlight. You should limit your exposure to the sun and tanning beds while you are taking Alecensaro® and for 7 days after stopping. If sun exposure is unavoidable a broad specturm UVA/UVB suncreen and lipbalm must be used to protect against sunburn.
Store in the original package in order to protect from light and moisture. Store at room temperature - between 15-30°C.
Alternatives
See other products used in the treatment of •non-small cell lung cancer •

The recommended dose is 600 mg (4 capsules) taken by mouth twice daily (total of 8 capsules, 1200 mg per day).
Sometimes the doctor may lower the dose, stop treatment for a short time or stop treatment completely if you feel unwell.
Alectinib is a protein kinase inhibitor which helps stop cancer from making new cells if the cancer is caused by a defect in a gene called anaplastic lymphoma kinase (ALK). It helps slow down the growth and spread of non-small cell lung cancer (NSCLC).
More common side effects; Contact your doctor if you experience these side effects and they are severe or bothersome.
constipation
diarrhea
dizziness
dry skin
fatigue
fluid buildup in arms, legs, ankles
hair loss
headache
increased sensitivity to the sun
metallic taste in the mouth
muscle and joint aches or pain
nausea
rash
vomiting
weight gain
Less common: Check with your doctor as soon as possible if any of the following side effects occur:
numbness or tingling in hands and feet
signs of anemia (low red blood cells; e.g., dizziness, pale skin, unusual tiredness or weakness, shortness of breath)
signs of liver problems (e.g., nausea, vomiting, diarrhea, loss of appetite, weight loss, yellowing of the skin or whites of the eyes, dark urine, pale stools)
signs of muscle damage (e.g., unexplained muscle pain, tenderness or weakness, or brown or discoloured urine)
slowed heart beat (e.g., dizziness, lightheadedness, fainting)
vision changes (e.g., blurred vision, loss of sight, black dots or white spots in vision, seeing double)
Stop taking the medication and seek immediate medical attention if any of the following occur:
signs of lung problems (e.g., worsening or new difficulty breathing, shortness of breath, cough with or without mucus, fever)
signs of tear in the stomach or intestines (e.g., severe stomach pain, fever, chills, changed in bowel habits)

Discuss use of alectinib with your health profession if you:
are intolerant to lactose
are younger than 18 years of age.
are taking medicine to lower your blood pressure or control your heart rate.
have a history of slow heart rate or fainting.
have a history of heart problems including irregular heartbeat, heart disease and heart failure.
have a history of problems with your gut, such as inflammation in the intestines(diverticulitis), a previous tear in your stomach or intestines or cancer that has spread to your gut.
Drug interactions:
There may be an interaction between alectinib and the following:
amiodarone
beta-adrenergic blockers (e.g., atenolol, propranolol, sotalol)
ceritinib
clonidine
dabigatran
digoxin
diltiazem
donepezil
dronedarone
fingolimod
galantamine
grapefruit juice
guanfacine
lacosamide
lanreotide
methotrexate
methyldopa
octreotide
pasireotide
propafenone
rivastigmine
ruxolitinib
St. John's wort
sufentanil
tizanidine
tofacitinib
verapamil
Safety in pregnancy: Alectinib can be dangerous to the fetus. Both female and male patients on alectinib must use effective birth control during treatment and for at least 3 months after.
Safety in breastfeeding: It is not known if alectinib passes into breast milk. Talk to your doctor about breastfeeding concerns.