Teva-Trimel suspension
This product is manufactured by Teva Pharmaceutical Industries and is a combination of two ingredients, trimethoprim and sulfamethoxazole.
This product is taken orally.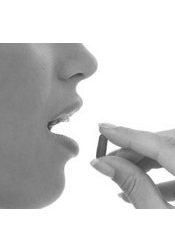 play
orally
Why is it prescribed?
Teva-Trimel is used to treat many infections caused by susceptible bacteria. This material will be limited to infections of the respiratory tract (e.g. pneumonia, bronchitis).
---
Use exactly as prescribed.
Teva-Trimel suspension must be shaken well before each use and should be stored at room temperature (15 to 25 degrees centigrade). It is unacceptable to dilute the medication in large volumes of liquid that will not be consumed immediately (e.g. baby's bottle). If you are having difficulty giving a child the medication, ask your pharmacist for suggestions.
To measure the prescribed dose, it is important that you have an appropriate measuring device. Ask your pharmacist to help you select the best one if you do not already have one.
Take Teva-Trimel at even intervals around the clock as prescribed (e.g. every 12 hours translates to twice a day) until all the prescribed medication has been taken. Failure to take the complete course can result in incomplete elimination of the bacteria which can lead to a relapse of the infection. The prescribed course generally lasts a few days longer than symptoms of the infection (e.g. fever). Treatment usually lasts 5 to 14 days.
If you miss a dose of this medicine, take it as soon as possible. If it is almost time for your next dose, skip the missed dose and go back to your regular dosing schedule. Do not take a double dose(unless you have been instructed to do so). Contact your pharmacist if you are not sure what to do.Teva-Trimel may produce allergic reactions. These may range from a mild rash or itching to a life-threatening reaction. Contact your doctor or pharmacist if you experience rash, itching, fever, difficulty breathing, chest tightness or anything else that alarms you.
Alternatives
Other products that have the same ingredients as Teva-Trimel suspension are •Sulfatrim and Sulfatrim DS tablets •Sulfatrim Pediatric tablets •Teva-Trimel and Teva-Trimel DS tablets ••Sulfatrim and Sulfatrim DS tablets •Sulfatrim Pediatric tablets •Teva-Trimel and Teva-Trimel DS tablets •
See other products used in the treatment of •bronchitis •middle ear infections •pneumonia •sinus infections •

The usual recommended dose in children under 2 years is 2.5 mLs twice daily. In children 2 to 5 years the suggested dose is 2.5 to 5 mLs twice daily. In children 6 to 12 years the recommended dose is 5 to 10 mLs twice daily.
Teva-Trimel suspension is a combination of two antibiotics called trimethoprim and sulfamethoxazole. These antibiotics work together by inhibiting two critical steps in the production of bacterial folic acid. The resulting decrease in folic acid interferes with the production of genetic building blocks and proteins of bacteria. The effectiveness of Teva-Trimel depends on factors such as dose, concentration in the blood as well as other body fluids and tissue, and susceptibility of the organism. Infections caused by bacteria that are not sensitive to Teva-Trimel will not show improvement after taking this medication.
Along with its needed effects, Teva-Trimel may cause some unwanted or undesirable effects. Generally, Teva-Trimel is well tolerated and many people will not experience unwanted effects. The frequency and severity of these effects is dependant on many factors including dose, duration of therapy and individual susceptibility. Possible unwanted effects include:
diarrhea
dizziness
headache
loss of appetite
mouth sores or swelling of the tongue
nausea or vomiting
tiredness
Increased sensitivity of skin to sunlight
Uncommon:
joint or muscle pain
difficulty in swallowing
pale skin
sore throat and fever
Allergic reactions can occur with Teva-Trimel use. People with a history of allergy, asthma, hay fever or hives seem to be more susceptible to these reactions. The reaction can be immediate and severe. Allergic symptoms include wheezing, hives, itching, swelling, spasms in the throat and breathing tubes, joint and muscle pain, difficulty breathing, fever and skin rashes. Nausea and vomiting are not symptoms of an allergic reaction.
Taking the antibiotic repeatedly or for prolonged periods may result in bacterial or fungal overgrowth which can lead to a second infection. When this occurs, the Teva-Trimel may need to be stopped and another antibiotic prescribed to treat the new infection.
Elderly people may be at an increased risk for side effects, especially when complicating conditions exist (such as kidney or liver disease).
Drink enough fluids (e.g. water) to increase urine flow.
Teva-Trimel may cause your skin to be more sensitive to sunlight. Exposure to sunlight, even for brief periods of time, may cause skin rash, itching, redness or severe sunburn. Stay out of direct sunlight, wear protective clothing and apply sun block. Do not use a sunlamp or tanning bed while on this medication.
Drug Interactions: It is important to tell your doctor and pharmacist of any prescription or over-the-counter medications you are taking. In some cases, the dose of one or both drugs may need to be altered or another drug may be prescribed. The following drugs or drug classes have been known to interact with Novo-Trimel:
oral contraceptives (e.g. Triphasil®)
warfarin (e.g. Coumadin®)
thiazide diuretics (e.g. hydrochlorothiazide®)
phenytoin (e.g. Dilantin®)
methotrexate
digoxin
cyclosporine (e.g. Neoral®)
Use is not recommended in the following situations:
allergy to trimethoprim or sulfonamides
megaloblastic anemia due to folate deficiency
liver disease
blood disorders
infants less than 2 months of age
pregnancy and breastfeeding
Caution is recommended in the following situations:
asthma
elderly patients (especially with liver or kidney disease)
liver disease
kidney disease
low folic acid levels
Use in pregnancy: Use is not recommended. Consult your doctor or pharmacist if you suspect you are pregnant.
Use while breast-feeding: Use is not recommended. Consult your doctor or pharmacist before you begin breast-feeding