Choledyl® expectorant
This product is manufactured by ERFA Canada and is a combination of two ingredients, oxtriphylline and guaifenesin.
This product is taken orally.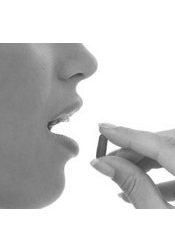 play
orally
Why is it prescribed?
Choledyl® expectorant is generally used to treat symptoms of conditions such as bronchial asthma, chronic bronchitis and emphysema (where easier removal of mucus in the lungs is desirable).
---
When starting this medication, it may take a few weeks for your physician to find the dose that is right for you. The doctor may draw some blood to help him/her determine how much oxtriphylline is in your body and then adjust your dose if there is too much or too little. The dose can vary quite significantly from person to person, even if they are the same sex, height and weight. It is very important that the correct oxtriphylline blood level be reached as inappropriate levels may result in serious unwanted effects.
Use an oral syringe to measure each dose of the liquid, as it gives a more accurate measurement than household teaspoons.
If you miss a dose, take it as soon as possible and continue with your regular schedule. If it is almost time for your next dose, skip the missed dose and continue with your regular dosing schedule. Do not take a double dose to make up for a missed one.
Store at room temperature away from children.

Alternatives
See other products used in the treatment of •asthma •chronic bronchitis (COPD) •COPD •emphysema (COPD) •sleep apnea •bronchitis •

In children over 14 years old and adults, the usual maintenance dose is 10 mL (2 teaspoonsful) 4 times a day. In children 10 to 14 years old, the dose is 5 mL (1 teaspoonful) 4 times a day.
Choledyl® expectorant contains two active ingredients, oxtriphylline and guaifenesin. The oxtriphylline works by relaxing smooth muscles in the bronchial tubes (air passages to the lungs) to allow air to move in and out of the lungs more easily. The guaifenesin works by loosening the mucus in the lungs to assist in its removal.
Contact your doctor if you experience these side effects and they are severe or bothersome. Your pharmacist may be able to advise you on managing side effects.
fast heartbeat
headache
increased urination
nausea
nervousness
trembling
trouble sleeping
Although most of the side effects listed below don't happen very often, they could lead to serious problems if you do not seek medical attention.
Check with your doctor as soon as possible if any of the following side effects occur:
Symptoms of overdose
abdominal pain (continuing or severe)
confusion or change in behaviour
convulsions (seizures)
dark or bloody vomit
diarrhea
dizziness or lightheadedness
fast or irregular heartbeat (continuing)
nervousness or restlessness (continuing)
trembling (continuing)
Use is not recommended in the following situations:
allergy to any xanthine (e.g. theophylline)
allergy to guaifenesin
heart disease
seizure disorder (unless receiving antiseizure medication)
stomach ulcer
Eating or drinking large quantities of products that are high in caffeine (chocolate, tea, coffee, soft drinks) can further increase oxtriphylline's stimulatory effects on the central nervous system (e.g. enhanced sleeplessness, agitation, uncomfortable heart beat).
Drug Interactions: Due to potentially serious interactions, it is important to inform your doctor and pharmacist of all the other medications you are taking, no matter how insignificant they may seem. Some medications can effect the amount of oxtriphylline in the blood. The following drugs and drug classes have been known to interact with oxtriphylline:
beta-blockers (e.g. propranolol)
cimetidine (e.g.Tagamet®)
ciprofloxacin (Cipro®)
erythromycin (e.g. Erythromid®)
lithium (e.g. Carbolith®)
alcohol
warfarin
Use in pregnancy: Not recommended in pregnancy unless the benefits outweight the risks. Contact your doctor or pharmacist if you suspect that you may be pregnant.
Use while breast-feeding: This medication passes into breast milk. Contact your doctor or pharmacist before you begin breast-feeding.