Donna McDonald
Lung Transplant Recipient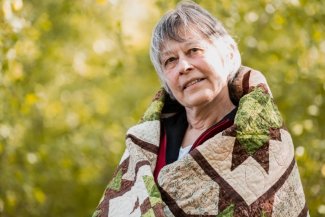 Having a lung transplant has changed me. I find myself looking on the bright side more often and I am also more accepting of others. It's important for us to arm ourselves with as much knowledge as we can.
My Lung Story
For Donna McDonald, quilting has not only been a past time but also a passion. She's spent years honing her talent. What Donna didn't know when she first started sewing was that a lung transplant would be woven into her life's fabric. In 2009, Donna was diagnosed with Chronic Obstructive Pulmonary Disease, a serious yet common lung disease.
After watching her sister pass away from COPD, Donna didn't want to die breathless. At the time of diagnosis, Donna's doctor asked her to consider being put on the lung transplant waitlist. The thought of having the surgery terrified her. She worried about the risks and the long recovery after the procedure. But it was what Donna's lung specialist said that empowered her to take the leap of faith. He said, "You won't die on the table but you will for sure die without a lung transplant."
Life Lines
Donna was born and raised in Saskatoon. She's a twin, has several other siblings, and is also the mother of two. Donna wasn't ready to leave her family behind. After undergoing countless medical tests, she was placed on the lung transplant waitlist. It was a daunting thought, knowing she needed a lung transplant and one she knew she couldn't go through alone. Saskatchewan residents are sent to Edmonton for transplant surgery and post-transplant therapy. If a pair of suitable lungs became available for Donna, she knew she would be required to be in Alberta for at least three months after the operation. She also required a support person to be with her the entire time. Donna's twin sister Linda ended up stepping forward and becoming her lifeline.
The Life-Saving Call
Donna remembers the day she got 'the call' that would give her a second chance at life. It was 6:30 on a Saturday morning when the phone rang and the voice on the other end told her that a pair of lungs were waiting for her. Happy, nervous and in shock, Donna couldn't believe she was really going to have a lung transplant. She admits she hadn't even packed her hospital bag yet. Her brother drove her to the airport and she recalls him saying "Okay Donna, keep your chin up. Good luck!"
Mending Again
The recovery was long and difficult, but one Donna does not regret. "I was surprised by how much I needed my sister to care for me. I couldn't have done it without her.Like the quilts I make, my sister became the stitches that helped hold me together. Because of my sister, my donor and the lung transplant team, I can see my kids through to adulthood. I am enjoying life again," Donna exclaims.
Today Donna is back exercising at pulmonary rehabilitation in order to keep her lungs and body strong. She continues to quilt and spend time with her family. "Having a lung transplant has changed me. I find myself looking on the bright side more often and I am also more accepting of others," says Donna. Now, as a Lung Ambassador for Lung Sask, she wants to see more education and awareness about lung disease and COPD. "It's important for us to arm ourselves with as much knowledge as we can. There is power in that. In fact, it can even be lifesaving."