Patsy Noyes
Pulmonary Fibrosis Patient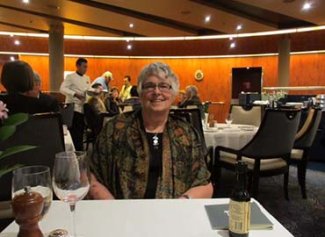 One thing I've found helpful is not to look at my idiopathic pulmonary fibrosis diagnosis as a death sentence because you can still live life to the fullest, you just have to go a bit slower.
My Lung Story
"When I was diagnosed with pulmonary fibrosis… I couldn't believe it. It has been an emotional roller coaster and after my diagnosis, I cried every day for at least a month or two. I finally told myself, okay, you know, you're stuck with it; you've got to live with it.

In 2018, I had pneumonia three or four times. I am a nurse and I knew there was something wrong. After I got antibiotics the second time, I asked my family doctor for a referral to a respirologist but he told me no, that I had bronchitis and that I didn't need the referral. The fourth time I had pneumonia I went to a walk-in clinic and saw a doctor. At this point my chest x-rays were clear but they could still hear rattles in my chest. This doctor put me on prednisone and antibiotics and I did notice I recovered faster with the antibiotics and steroid. This doctor sent a note to my family doctor and said I need to be seen by a respirologist. In July I was finally given a referral to Dr. Paas Jensen and sent for a CT Screening of the chest and a pulmonary function test. I saw Dr. Marcoux the following March.

I was diagnosed with Idiopathic Pulmonary Fibrosis (IPF) and let me tell you, it was a real shock. Idiopathic means there is no known cause for developing Pulmonary Fibrosis. Before this diagnosis, I'd only had mild asthma that flares up in the allergy season, and that was the extent of any lung problems. I was expecting a COPD diagnosis, so the IPF diagnosis was shocking. I was still struggling and Dr. Marceux wanted me to start using oxygen for exertion. This was incredibly upsetting to me. I felt like having to go on oxygen was the end stage, even if it does make a big difference. My husband and love to travel and the thought of having to lug that oxygen tank around was overwhelming. Dr. Marceux was very supportive and arranged for an oxygen concentrator, that you carry in a backpack. She also assisted in ensuring the cost was covered by Sask Health. 

With COVID, I've kept my bubble very small, but I have one friend who comes over and we quilt together. Quilting is a lifesaver and I belong to the Quilters' Guild and several online quilting groups. I've done a lot of reading.  I've joined a few Zoom meetings, including Lung Sask's pulmonary fibrosis online support meetings. I'm thankful to have two or three friends who are supportive and can lean on when needed, along with my husband. 

One thing I've found so helpful is to not look at IPF as a death sentence because you can still live life to the fullest, you just have to go a bit slower."
If you or a loved one have been diagnosed with pulmonary fibrosis, you are not alone! Join our online community of support today.