Karen Webb
Lung Transplant Recipient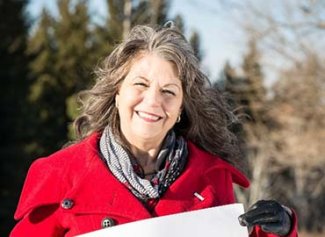 Receiving a lung transplant was a difficult journey physically, emotionally, and financially but I would do it over again. I'm back to doing the things I love most and making the most out of every moment.
My Lung Story
Karen's journey with Chronic Obstructive Pulmonary Disease (COPD) began a long time ago. COPD which includes chronic bronchitis and emphysema is a long-term lung disease that takes your breath away and gets worse over time. It is the number one cause of hospitalization in Canada and the fourth leading cause of death. Although COPD affects men and women alike, it has become a crucial women's health issue.
Karen began smoking when she was just 13 years old. In her twenties and thirties, she had a cough that kept getting worse and would often have chest infections. By the time she was 40, it took everything she had to simply breathe. "It's very true when you can't breathe, nothing else matters! At first, it was difficult for me to go up a flight of stairs, walk anywhere, or carry objects. I tried my best to pace myself but eventually, I became isolated and all of my energy was spent on breathing."
COPD affected Karen's entire family. Her husband no longer had a partner in Karen. She became his patient. The things they once enjoyed together were no longer possible. Travelling, attending music concerts, and weekly family dinners that Karen hosted became a distant memory. Leaving the house was daunting and visiting her sick parents out of town was a struggle.
A severe COPD flare-up (lung attack), which can be just as deadly as a heart attack put Karen in the hospital. The doctors encouraged her to consider being put on the lung transplant list. After many medical tests, a close look at their finances and discussions with her family, Karen agreed to add her name to the list in hopes she would be given a second chance to breathe. 
In August of 2016, she got 'the call.' She took an air ambulance to Edmonton, where the surgery was performed. Eight hours later, she had a new set of lungs. The following week, Karen experienced another miracle and became a grandmother.
 
Strong and Giving Back – The Butterfly Effect
Receiving a lung transplant was a difficult journey, physically, emotionally and financially but Karen would do it over again. Karen is back doing the things she loves most. She is no longer her husband's patient, but partner again.  She is travelling, spending time with her grandson, and making the most out of every moment. Karen will forever be grateful to her donor for the gift of breath.  She has chosen to say thank you by giving back by volunteering and spreading awareness about lung health. She often referred to her acts of kindness since her transplant as "the butterfly effect." Karen has become a Lung Ambassador for Lung Sask, volunteering countless hours and spreading awareness about lung health.  She just recently learnt that the symbol for lung transplantation is a butterfly – which for Karen seems rather fitting.
Karen's story is a miraculous one. Her story had a happy ending but this isn't always the case for far too many. Karen recently lost her mom to COPD. "It is extremely difficult to watch someone you love succumb to the disease that almost took me. My mom didn't have a happy ending like I did."
COPD is taking the breath of too many people. Let's end it and together build a healthier future for our loved ones.
If you or a loved one has been diagnosed with COPD you are not alone! Join our online community of support.