Kevyn Gadd
Lung Transplant Recipient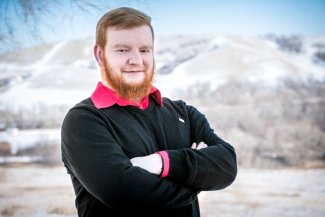 It was an exciting day when I could sign up for hockey again.
My Lung Story
For a man so caring, it's hard to believe that Kevyn Gadd was born with a hole in his heart and with pulmonary hypertension.
Pulmonary hypertension is a genetic form of high blood pressure that affects the arteries in the lungs and the right side of the heart.  The arteries in the lungs become blocked and destroyed, making it hard for blood to flow through to the lungs.  The heart has to work harder to pump the blood and the disease eventually becomes fatal.

Too Breathless to Play
Kevyn loves being active and playing sports.  He's always had a passion for sports, especially hockey. He could never play competitively or push himself too hard because of his health condition. The past few years playing sports at all wasn't an option for Kevyn because simple day-to-day tasks like walking up a flight of stairs proved to be too much for him.

Lucky to Live
In 2013, a viral infection threatened his life.  Doctors in Saskatchewan quickly transferred Kevyn to Edmonton to see if he would qualify for a lung transplant.  The transplant team immediately performed tests to see if he would be a strong candidate for the surgery.  Most patients put on the lung transplant list will first go to Edmonton for a 6-week education and exercise program to help prepare for the surgery, and they wait a significant amount of time for that life-saving call. However, Kevyn received his 'call for new lungs' in January 2014, just 13 days after being put on the lung transplant waitlist.
Born sick and in need of a lung transplant in his twenties, Kevyn not only had to fight for his life but find a way to pay for it.  He along with friends and family fundraised thousands of dollars for Kevyn to afford accommodations near the transplant center in Edmonton, travel expenses, hospital parking and medical equipment. Yet when he tells his story despite all of his hardships and struggles, he thinks of himself as "lucky."

Breathing Strong
After his transplant, Kevyn's mom joked that he could now run a marathon with her. Kevyn doesn't plan to tackle a marathon, but while in Edmonton he and his mom heard about a run that raises funds and public awareness for organ donation. Kevyn's mom spearheaded the first event of its kind in Saskatchewan hosting the event in their hometown in Moose Jaw.
At the third run his family organized, Kevyn knew this one would be special. When Kevyn crossed the finish line, he got down on one knee and asked his girlfriend to marry him … and she said YES!

A second breath – "It means everything!"
His heart and lungs are no longer 'broken.'  Kevyn will take medication for the rest of his life to avoid organ rejection and will travel to Saskatoon to see his lung specialists often.  He tells anyone that needs a transplant to "absolutely do it!" Today he is able to do the things enjoys most. He takes long walks, climbs stairs with ease, and even plays floor hockey. He says, "it was an exciting day when I realized I could sign up for hockey again, but I am even more excited to be a hockey dad." His fiancé's five-year-old son, Griffin, loves the sport and it is keeping the family busy with practices and games. The meaning behind what a second breath means to someone may be hard to put into words, but for Kevyn, it meant "everything!"