Dr. Darryl Adamko
Children's Respirologist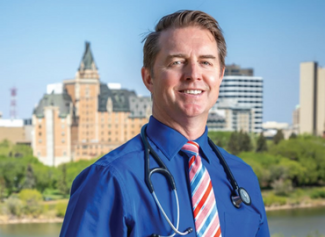 Asthma
Children & Lung Health
Health Professionals
Research
Seeing a child's growth and general well-being improve is the most rewarding to me.  Healthy children become healthy adults
My Lung Story
Dr. Darryl Adamko is a children's lung health expert who is passionate about helping children breathe easier earlier and improve their overall health so they may enjoy a healthy future.  He is motivated by the children he works with.
Dr. Adamko's interest in respiratory health in children began early on in his medical career.  As a pediatric resident, he helped care for the children at Lung Saskatchewan's Asthma Camp.  The experience helped solidify his desire to become a children's doctor. "I remember Lung Saskatchewan's Asthma Camp being fun and entertaining.  It was my job to make sure the children were safe at camp.   
As a medical student, it was a bit stressful worrying about their health, but it was a good learning experience for me.  I saw how the children viewed their disease and how they responded to our teaching." 
Years later Dr. Adamko not only focuses on improving the lives of today's children he is a pioneer for future generations through his innovative research and education on lung health. People need to understand that breathing disorders are very common and they cause a large healthcare burden.   
Often lung disease starts in the young and lasts into adulthood. Asthma is the leading chronic (long-term) disease in children. Obstructive sleep apnea, a disease where that causes pauses in the breathing while asleep, in children can have lasting problems. It is my hope that my research will allow these diseases to be treated better and earlier. The children I help today empower me to push harder for a healthier tomorrow for everyone"