Rhonda Waditaka
SK Quits Ambassador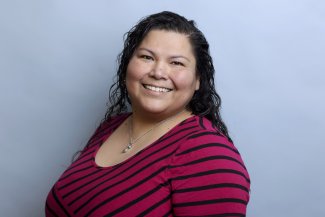 One of my main reasons to quit is for my health and my biggest motivation for quitting is my son.
My Lung Story
Like many people in Saskatchewan, I started smoking in junior high to fit in with my new friends. I quit smoking the first time in 1999 and have stopped and started smoking several times over the years. In 2021, I once again started on my journey to quit smoking. I wanted to quit for many reasons, particularly for my health. I now have a heart condition and smoking was a contributing factor. In addition, smoking did not help with my weight loss goal, as I was too out of breath to walk for even 15-20 minutes.
However, the biggest motivator for quitting is my son. I want to be someone he looks up to for living a healthier lifestyle. When the 2021 Saskatchewan Quits Personal Challenge was launched, I joined the group and I am happy to report I was able to quit smoking before the end of the month! I honestly do not think I would have been successful without the Facebook support group. The other group members gave inspiration and advice and I appreciate there is no judgement in the group regardless of where people are on their quit journey.

The other group members and the Lung Saskatchewan staff celebrate all your successes and they also understand and support you if have a setback. When I was asked to be the Ambassador for the Saskatchewan Quits Personal Challenge, I was excited! But recently, I have had some setbacks and I was feeling like I should not be an Ambassador anymore. However, the team at Lung Saskatchewan keep reminding me that it is okay to have setbacks on your quit journey. Quitting smoking can be hard. Everyone's journey is different and Lung Saskatchewan is here to help.

One thing we talk about in the Facebook Support group is the importance of having a support system. In addition to the Sask Quits group, I have a strong support system of friends and family. I have also used the Talk Tobacco support line that's geared for First Nation, Inuit, Metis, and urban Indigenous persons. I found this resource by chance on a local news site. I also used the text feature of the Canadian Canada Society Smokers Help Line. Being able to chat online, as well as text when needed, was very helpful; especially when you need to reach out to someone when friends or family are not available. Another tool that was critical to my success was smoking cessation medications.

I believe what has helped the most on my quit journey is to surround myself with positive company and to have a positive attitude. I started taking walks, drinking a lot of water, and keeping lots of sugar-free gum handy. In my previous attempts to quit smoking, I found the nicotine patch was helpful with cravings. No matter what tools you try, the important thing is to keep moving forward on your quit journey. Don't give up! It doesn't matter if you stumble along the way, or if you're struggling with maintaining, reach out for help--even if it's for a few encouraging words.

If you are considering quitting or cutting back on smoking, I encourage you to join the Saskatchewan Quits support group.