Moe Martin
Lung Transplant Recipient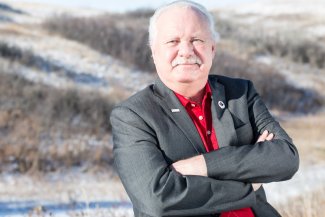 Lung Transplant
Pulmonary Fibrosis
Getting my second breath back means I now have a future where I can give back... I am forever grateful to my donor and honour them by raising awareness of the importance of organ donation.
My Lung Story
My Lung Story
With over 25 years in the workforce, Moe Martin was excited about retiring. He looked forward to having more time to golf, to work in the garage and to spend with his loved ones.  Unfortunately, pulmonary fibrosis threatened to take both his retirement dreams and his life away.
Over the years, Moe had been very involved in the golf community.  He spent more than ten years on the Board of Directors of Golf Saskatchewan, two of them as President. He is also a certified Rules Official. Moe says, "Volunteering is both essential and rewarding for the community." He was also part of the Telephone Pioneers of America, the 2003 Grey Cup Executive Planning Committee, and Director of Professional Certification on the Regina/South Saskatchewan Project Management Institute to name a few.
When he wasn't working, volunteering or spending time with his family, you could usually find Moe in his garage. He loves to rebuild cars and raced them back in his younger years. He thought his retirement would allow him more time to fix up his beloved sports car, golf and travel with his wife. 
The Diagnosis that Took his Breath Away
In June of 2015, Moe thought all of his retirement dreams were no longer. He was diagnosed with pulmonary fibrosis, a disease that scars the lungs and leaves you breathless. Moe could no longer take part in any of his hobbies and, eventually, walking became too difficult confining him to a wheelchair. "Pulmonary fibrosis was controlling my life," Moe recalls.
After undergoing many tests, Moe was accepted into the transplant program and placed on the lung transplant list.  He waited and hoped he would be given the gift to breathe again.  In the winter of 2017, Moe was called to Edmonton to participate in the pre-transplant program.  Only a week into the program, Moe received his life-saving call for double lung transplant surgery.    
A Burden Far Greater than his Health
All Saskatchewan residents receiving a lung transplant have the surgery out of province. Moe and his wife were required to temporarily move for several months to Edmonton, Alberta. He knew he was going to be in great hands, because his wife of 40 years is a retired Registered Nurse. But his poor health wasn't the only burden the couple would have to face. Although Moe's prescription medications, hospital stay and surgery itself was covered, the cost of lodging in Edmonton, transportation, some new medical supplies, food, and hospital parking wasn't. This added up to almost $15,000 on top of all the other regular expenses he had.  His friends and family tried to ease the financial burden and fundraised for him so he could focus on his health and breathing strong again.
Breathing Strong 
After his transplant, Moe was most excited about being able to breathe. He says it was "sheer pleasure to be able to breathe uninhibited and to be able to look at people without an oxygen tube up my nose." 
The Best Gift in Life is a Second Chance to have Tomorrow 
For Moe, his lung transplant meant he could see his kids and experience the retirement he once dreamed of. Moe has faced a couple of challenges while recovering from his transplant, but he is dedicated to live a full and healthy life. Moe is determined to get back out on the golf course as soon as possible. "I have every intention of being able to play," he says. But Moe is most grateful for the chance to spend more time with his wife. "I'm a pretty lucky guy with that lady in my life". That summer, Moe and his wife celebrated their 40th wedding anniversary, an anniversary he wasn't sure he would make it to. The transplant, he says, "allowed me to have a life – which I appreciate every day."
Brenda, Moe's wife, was his caretaker throughout his lung transplant journey. Brenda describes that even though she was always on guard while Moe was going through the post-transplant recovery period, it was amazing to see the daily progress and Moe's mental determination to regain his strength and get back some of the life he had lost.
Moe says that getting his second breath back means he now has a future where he can give back and get back to doing the volunteer work he so much enjoys. He is forever grateful to his donor; he honours his donor by raising awareness of the importance of organ donation and hopes to inform strategies that will inspire everyone to get involved in the movement for healthy lungs.