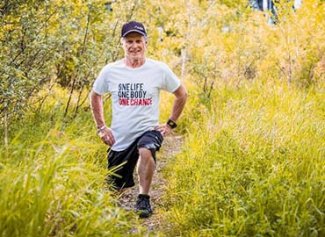 By exercising constantly, I am able to manage my COPD. I am in better shape now than I have been in years. The benefits of exercise are endless for the body, mind, and overall attitude.
My Lung Story
In 2009, Dale became short of breath. He went to the doctor and was told he had severe chronic obstructive pulmonary disease (COPD) and that there was little hope for his future. In shock and disbelief, Dale refused to accept that there was nothing he could do. "I thought there has to be something. I have a lot of living left." 
Putting One Foot Forward 
Shortly after his diagnosis, Dale learned about pulmonary rehabilitation. Several times a week, Dale would take part in the specialized exercise program as well as educational sessions to learn about COPD. 
There is no cure for the disease, but it can be managed. By exercising consistently in a safe environment, Dale learned how to use his muscles so he could to do more, have fewer symptoms, and enjoy a better quality of life. "I am able to manage my COPD. I am in better shape now than I have been in years. The benefits of exercise are endless for the body, mind and overall attitude," says Dale. 
The educational part of the program is equally important. Lung Sask provides education sessions specifically on COPD medications. Although Dale has attended the medication session several times, he keeps going because he says he always learns something new. "There is new information and different medications available all the time. It's important for people to know they have options and that Lung Sask and health care providers are available to help them," states Dale. 
Leading the way for others 
The pulmonary rehabilitation program at the Moose Jaw Hospital has now been around for several years and continues to grow. Dale was among the first patients to benefit from it. Years later, he has become a mentor to those new to the program. He's also become an advocate for pulmonary rehabilitation and took on a patient advisory role to assist with COPD policy changes at the hospital. He, along with experts working in the field, have made it a goal to come up with a strategy to reduce hospital readmissions for people with COPD. Recently Dale also was interviewed for a national health television program on COPD to help raise awareness about COPD management. "It was a great experience and I hope it helps others in the future," he says.   
When asked why the program is so important to him Dale simply said, "Pulmonary rehabilitation saved my life. I would not be alive without it." When Dale isn't at pulmonary rehabilitation, you can usually find him somewhere on Buffalo Pound Lake fishing for walleye. "I have a future again. I can enjoy fishing at the lake and, most importantly, I am able to spend more time with my wife Brenda, my two daughters Carla and Alana, son in law Cory and my grandson Grady," he says. Dale's family has been very supportive of him and encourages his commitment to the pulmonary rehabilitation program. The first day he started the program, his daughter gave him a shirt that said One Life, One Body, One Chance written on it. And for Dale, it couldn't be more fitting. 
Transforming his backyard into a pulmonary rehabilitation program 
During the COVID-19 respiratory pandemic, life in Saskatchewan is far from ordinary.  Dale along with others with lung disease are some of the most vulnerable populations during these uncertain and challenging times.  However, when Moose Jaw's pulmonary rehabilitation facility was shut down due to the pandemic, Dale found a way for people with lung disease to exercise safely together. He turned his backyard into a pulmonary rehabilitation program with a "twist." He used materials he had around the house to make exercise stations, added used fitness equipment and made room for people's oxygen tanks, making sure everything was at least six feet apart to ensure social distancing. His creative idea was well received by many and people with lung disease now come three times a week.  When asked why he decided to do this he said, "we are basically a group of friends brought together by ugly circumstance and we are determined to make the best of it. People in our situation do much better with continued exercise and we do not want to lose what we worked very hard to gain."  Dale also praises the leaders and exercise therapists, Jared and Ann, that have taught him so much over the years.  He says they have "motivated" him.  The pulmonary rehabilitation participants and Dale's perseverance and courage however have inspired us all. 
See how Dale has transformed his backyard into a pulmonary rehabilitation program