Peggy Froh
Tuberculosis Survivor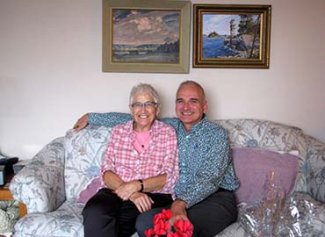 Ft. Qu'Appelle Sanatorium was a warm, welcoming and caring community. It was its own small village. A wonderful place to bring up kids and grow up. A wonderful place to work and live.
My Lung Story
Over half a century later, Peggy lives just up the road from where she met Frank Froh - the love of her life, the father of her children and a man who not only dedicated his life's work towards lung health, but inspired his family to continue to carry on his legacy. 
In 1955 Peggy had applied to work as a nurse at the Fort Qu'Appelle Sanatorium just after she had cared for her mother who had suffered from pneumonia.  Peggy underwent routine TB screening before she started her nursing position.  However, the screening revealed a spot on her lung which was assumed to be TB.  Rather than going to Fort San as a nurse, she began her journey there as a patient. "I remember being put on bed rest. One day our beds were all wheeled out into the hallway to watch a movie. That was where I first saw Frank. He was working at the San and was playing the movie for all of the patients." 
Frank Froh began his career at Fort San as the secretary to Dr. R.G. Ferguson. Later Frank was appointed assistant secretary of the Anti-Tuberculosis League and led mass TB screening for the province. When he wasn't travelling around Saskatchewan, he was at Fort San caring for those with TB. 
Peggy never believed she had TB, but always thought she had caught pneumonia while caring for her mother. After some time, Peggy insisted the staff give her antibiotics and retake her x-ray. With some reluctance, they did as she requested and discovered the spot on her lung had disappeared. After her misdiagnosis, Peggy was cleared to begin work as a nurse at Fort San. It was there, that Peggy and Frank fell in love. They married just a few short months after they started dating. While Peggy left nursing to be a full-time mom to their eight children, Frank continued his chase for a cure. "It was Frank's life's calling to rid the world of TB," says Peggy. Although Frank never had TB himself, his family had been impacted by the disease. Frank's mother had a lobectomy (part of her lung removed) and his sister had lost a kidney due to TB. 
Long after leaving her nursing position, Peggy and her children spent a lot of time with Frank on the Fort San grounds. "Fort San was a warm, welcoming and caring community. It was its own small village. A wonderful place to bring up kids. A wonderful place to work and live," recalls Peggy. 
Peggy's son James has fond memories of Fort San too. He visited his father's work on a regular basis. "It was a great place to grow up. There was always a mother somewhere on the grounds watching over us," says James. Years later James still finds joy and comfort when he visits his mom in Fort Qu'Appelle. "When I come to the valley I'm coming home. It's like someone is putting their arms around you giving you a hug," describes James. 
Frank Froh was dedicated and committed to his work and his family are proud of not just what he accomplished but also what he began. The Froh family knew all those years ago that Frank's work was not only making a significant impact then but would also continue to save future lives. Frank was later named the Executive Director of the Anti-Tuberculosis League. His work transitioned from TB control to the prevention and research into all lung disease and a name change to The Saskatchewan Lung Association (What is now known as Lung Saskatchewan). Frank Froh had planned to retire in June of 1985 but passed suddenly on March 31, 1984. 
Frank's dedication to lung health continues to live on today. His son James is on Lung Sask's Board of Directors and dedicates countless volunteer hours to helping Saskatchewan residents breathe easier.  
Peggy Froh (Retired Fort San Nurse), James Froh (Member of Lung Sask Board of Directors) 
The fight against TB remains part of the Lung Sask's work today. Lung Sask's mission statement to improve lung health one breath at a time reflects how the organization has maintained the Anti-Tuberculosis Leagues strong belief in everyone's right to lung health.