Investigation of Immune Status During Long-Term Recovery From COVID-19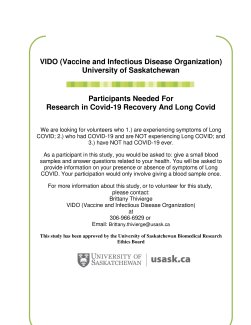 About the Study
Long COVID is a debilitating disease that affects several organ and organ systems such as the lungs, brain, and kidneys. However, there is limited understanding of what causes Long COVID and how to treat people who are suffering. In this project we are determining how the immune system is dysregulated during COVID-19 recovery and in Long COVID. The results will be important for determining the causes of Long COVID as well as identifying possible treatments for people suffering from the disease.
Researchers from the Vaccine and Infectious Disease Organization (VIDO) are recruiting individuals to donate a blood sample for a research study on immune responses in humans to COVID-19. We are looking for people who 1.) have Long COVID; 2.) had COVID-19 and do NOT have Long COVID; and 3.) have not had COVID-19 ever.
This study will require a time commitment of approximately 30 minutes. As a participant in this study, you would be asked questions related to your health and asked to donate a small amount of blood. Appointments are taking place in Saskatoon and Regina. The study's goal is to understand the immune responses in people suffering from Long COVID.
How to Participate
If you are interested in participating or want more information, please contact Ethan Jansen (ethan.jansen@usask.ca, 306-966-2568) or Brittany Thivierge (b.thivierge@usask.ca, 306-966-6929).
---