This product is manufactured by Pfizer using the ingredient fluconazole.
This product is taken orally.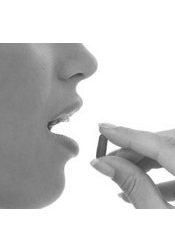 play
orally
Why is it prescribed?
Fluconazole is used to treat many fungal infections. This material will be limited to the treatment of candidiasis (yeast) infections of the mouth, throat and esophagus (food pipe).
Diflucan® oral suspension is generally prescribed for children or adults that are unable to swallow tablets.
To ensure the proper dose is received, shake the suspension well before each dose.
Store at room temperature. The suspension expires after 14 days. For accurate dosing, the suspension should be measured using an appropriate measuring device. Ask your pharmacist to help you select one if you do not already have one at home.
Diflucan® suspension is taken on a once daily basis. If you miss a dose, take it as soon as possible. If more than several hours have passed or it is almost time for your next dose, do not double the dose (unless you have been told to do so). Contact your pharmacist if you are not sure what to do.
Diflucan® suspension can be taken with food.
It should be taken at the same time each day.
You may be instructed to start your first day of therapy with twice the normal daily dose. This is done so the body can start fighting the infection more quickly.
Alternatives
Other products that have the same ingredient as Diflucan® suspension are •Act-Fluconazole tablets •Apo-Fluconazole tablets •Mylan-Fluconazole tablets •PMS-Fluconazole tablets •PRO-Fluconazole tablets •Teva-Fluconazole tablets •
See other products used in the treatment of •candidiasis •thrush •yeast infection of the mouth and throat •cystic fibrosis •chronic bronchitis (COPD) •

For candidal infections of the mouth and throat: Adults usually take 100 mg once daily for 2 weeks. In children the usual dose is 3 mg per kilogram of body weight once daily for 2 weeks.
For candidal infections of the esophagus: Adults usually take 100 to 200 mg once daily for at least 2 weeks after the symptoms have disappeared or a minimum of 3 weeks. The dose for children is from 3 mg to 6 mg per kilogram of body weight for at least 2 weeks after the symptoms have disappeared or a minimum of 3 weeks.
Fluconazole is an antifungal agent. It works by interfering with the formation of the fungal cell membrane.
Along with its needed effects, fluonazole may cause some unwanted or undesirable effects. Generally, fluconazole is well tolerated and many people will not experience unwanted effects. The frequency and severity of these effects is dependant on many factors including dose, duration of therapy and individual susceptibility. In general, fluconazole is well tolerated. Possible unwanted effects include:
nausea
vomiting
diarrhea
headache
skin rash
Fluconazole should be taken exactly as prescribed. If you experience a rash, yellowing of skin or eyes, nausea, weakness, difficulty breathing or facial swelling contact your doctor immediately.
Drug Interactions: It is important to tell your doctor and pharmacist about any prescription or over-the-counter medications you are taking to help avoid any serious drug interactions. The dose of one or both medications may need to be altered or a new drug may be prescribed. In some cases, one of the drugs may have to be discontinued. The following drugs and drug classes have been known to interact with fluconazole.
acid blockers (e.g. cimetidine)
rifampin
warfarin (e.g. Coumadin®)
cyclosporine (e.g. Neoral®)
theophylline (e.g. Theo-Dur®)
phenytoin (e.g. Dilantin®)
hydrochlorothiazide
diabetes medication (e.g. glyburide)
oral contraceptives (e.g.Triphasil®)
zidovudine
Use is not recommended in the following situations:
allergy to fluconazole or any component of the preparation
Caution is recommended in the following situations:
kidney disease
liver disease
allergy to other azole antifungals (e.g. ketoconazole)

Use in pregnancy: If you suspect that you may be pregnant contact your doctor.
Use while breastfeeding: It is likely that fluconazole does pass into the breast-milk. Consult your doctor or pharmacist before use.