Sanis-Clarithromycin tablets
This product is manufactured by Sanis Health Inc. using the ingredient clarithromycin.
This product is taken orally.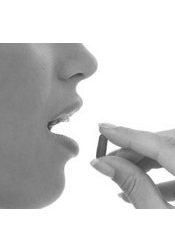 play
orally
Why is it prescribed?
Clarithromycin is used to treat infections caused by susceptible bacteria. This material will be limited to infections of the respiratory tract (e.g. pneumonia, tonsilitis, sinuses, sore throat) and the middle ear.
Use exactly as prescribed.
Sanis-Clarithromycin tablets can be taken with or without food. Take at even intervals around the clock as prescribed (e.g. every 12 hours translates to twice a day) until finished. Failure to take the complete course can result in incomplete elimination of the bacteria which can lead to a relapse of the infection. The prescribed course generally lasts a few days longer than symptoms of the infection (e.g. fever). Treatment usually lasts 7 to 14 days. If you miss a dose, take it as soon as possible. If it is almost time for your next dose, do not take 2 doses at once (unless you have been instructed to do so). Contact your pharmacist if you are not sure what to do.
It is not unusual to experience the more common, unwanted effects with clarithromycin tablets (e.g. nausea, diarrhea, etc.). Contact your doctor or pharmacist if they are severe, persist or become bothersome.
Clarithromycin tablets may produce an allergic reaction which can range in severity from a mild rash or itching to a life-threatening reaction. Contact your doctor or pharmacist if you experience rash, itching, fever, difficulty breathing, chest tightness or anything else that alarms you.
Alternatives
Other products that have the same ingredient as Sanis-Clarithromycin tablets are •Act-Clarithromycin XL tablets •Apo-Clarithromycin tablets •Apo-Clarithromycin XL tablets •Biaxin BID® tablets •Biaxin® suspension •PMS-Clarithromycin tablets •PRO-Clarithromycin tablets •Riva-Clarithromycin tablets •Sandoz Clarithromycin tablets •Sanis-Clarithromycin Suspension •Sivem-Clarithromycin tablets •Taro-clarithromycin suspension •Taro-Clarithromycin tablets •
See other products used in the treatment of •bronchitis •middle ear infections •pharyngitis •pneumonia •respiratory tract infections •sinus infections •sinusitis •sore throat •tonsilitis •upper respiratory tract infections •

The dose will depend on the type and severity of the infection. The usual adult dose of clarithromycin for respiratory tract infections is 250 mg to 500 mg every 12 hours.
Clarithromycin is an antibiotic. It works by suppressing formation of vital proteins in bacteria, slowing bacterial growth. Clarithromycin does not suppress growth of all types of bacteria, but only those that have a sensitivity to this antibiotic. Infections caused by bacteria that are not sensitive to clarithromycin will not show improvement after taking this medication.
Along with its needed effects, clarithromycin may cause some unwanted or undesirable effects. Generally, clarithromycin is well tolerated and many people will not experience unwanted effects. The frequency and severity of these effects is dependant on many factors including dose, duration of therapy and individual susceptibility. Possible unwanted effects include:
diarrhea
nausea
abnormal taste
stomach discomfort
indigestion
Uncommon:
allergy (e.g. hives, itching, rash, difficulty breathing)
headache
dizziness
constipation
diaper rash
oral candidiasis (thrush)
vomiting
Rare:
jaundice (yellowing of skin or eyes)
difficulty breathing
confusion
hallucinations
nightmares
Allergic reactions can occur with clarithromycin use. The reaction can be immediate and severe. Allergic symptoms include wheezing, hives, itching, swelling, spasms in the throat and breathing tubes, joint and muscle pain, difficulty breathing, fever and skin rashes. Nausea and vomiting are not symptoms of an allergic reaction.
Taking the antibiotic repeatedly or for prolonged periods may result in bacterial or fungal overgrowth which can lead to a second infection. When this occurs, the clarithromycin may need to be stopped and another antibiotic prescribed to treat the new infection.
Diarrhea often develops while taking clarithromycin. This is sometimes caused by an overgrowth of bacteria in the gut that are not killed by the antibiotic. In severe cases, this may be life threatening and would require treatment with other antibiotics. In mild cases, symptoms disappear shortly after the drug is discontinued.
Drug Interactions: It is important to tell your doctor and pharmacist of any prescription or over-the-counter medications you are taking. In some cases, the dose of one or both drugs may need to be altered or another drug may be prescribed. Interactions have been known to occur with the following drugs and drug classes.
anticoagulants (e.g. Coumadin®)
carbamazepine (e.g. Tegretol®)
cyclosporine (e.g. Neoral®)
digoxin (e.g. Lanoxin®)
disopyramide (e.g. Norpace®)
ergot-containing drugs (e.g. Ergomar®)
fluconazole (e.g. Diflucan®)
pimozide (e.g. Orap®)
zidovudine (e.g. Retrovir®)
theophylline (e.g. Theo-Dur®)
triazolam (e.g. Halcion®)
phenytoin (e.g. Dilantin®)
cholesterol reducing medications such as atorvastatin (e.g. Lipitor®), lovastatin (e.g. Mevacor®)
Use is not recommended in the following situations:
allergy to clarithromycin, erythromycin or any of the macrolide antibiotics
Caution is recommended in the following situations:
kidney disease, severe
liver disease or dysfunction
myasthenia gravis
Use in pregnancy: Clarithromycin should not be used during pregnancy, especially during the first trimester unless there are no safer alternatives. Consult your doctor or pharmacist if you suspect that you may be pregnant.
Use while breastfeeding: Clarithromycin passes into the breast-milk, but is considered safe for use if breastfeeding. Consult your doctor or pharmacist before use.