This product is manufactured by Taro Pharmaceuticals Inc. using the ingredient bosentan.
This product is taken orally.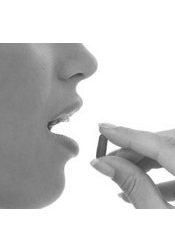 play
orally
Why is it prescribed?
Bosentan is used for the treatment of pulmonary arterial hypertension (PAH).
Take this medication with or without food with a glass of water.
Store at room temperature. Do not use after the expiry date stated on the blister.
Tests during treatment:
This medication may cause abnormal liver function values and anemia. Your doctor will do regular blood tests to assess any changes in your liver function and hemoglobin level.
Liver function: This blood test will be done every month or more frequently, if needed.
Anemia:This blood test will be done after 1 month and after 3 months of treatment and every 3 months during treatment thereafter.
Alternatives
Other products that have the same ingredient as Taro-Bosentan are •Nat-Bosentan •PMS-bosentan tablet •Tracleer® •
See other products used in the treatment of •primary pulmonary hypertension •secondary pulmonary hypertension •

Dosage in adults over the age of 18: Start at a dose of 62.5 mg twice daily for 4 weeks and then increase to the recommended dose of 125 mg twice daily.
Bosentan belongs to a class of medications known as "endothelin receptor antagonists". It is used to treat pulmonary arterial hypertension or PAH and works by relaxing the blood vessels between the heart and lungs thereby reducing abnormally high blood pressure.
If you are a man taking Bosentan it is possible that this medicine may lower your sperm count. It cannot be excluded that this may affect your ability to father a child. Talk to your doctor if you have any questions or concerns about this.
If these side effects become bothersome, contact your doctor:
headache
nausea and vomiting
abdominal pain
diarrhea
skin rash
flushing
inflammation of the throat and nasal passages
swelling of the legs and ankles, or other signs of fluid retention
low blood pressure
irregular heartbeat
heartburn
tiredness
itching

If you notice yellowing of the skin or eyes (jaundice) or other symptoms such as nausea, vomiting, fever, abdominal pain or unusual tiredness, see your doctor immediately because this may be related to abnormal liver function.

Do not use Bosentan if you:
have liver problems;
are pregnant or planning to become pregnant
are a woman of childbearing age and not using adequate contraception. Bosentan may make hormonal contraception (e.g., oral, injection, implant or skin patches) ineffective, this method on its own is not reliable. Therefore, if you use hormonal contraceptives you must also use a barrier method (e.g., female condom, diaphragm, contraceptive sponge or your partner must also use a condom). Monthly pregnancy tests are recommended while you are taking Bosentan and you are of childbearing age
Drug Interactions: Tell your doctor and your pharmacist if you are taking:
glyburide
cyclosporine A or any other drugs used to prevent rejection of transplanted organs;
fluconazole or ketoconazole
rifampicin
vasodilators (drugs used to treat high blood pressure)
warfarin
simvastatin and other statins
hormonal contraceptives.
Use in pregnancy: Bosentan has the potential to cause birth defects and should not be used if pregnant or planning to get pregnant.
Use in breastfeeding: It is not known whether bosentan is transferred to breastmilk. Use is not recommended in breastfeeding women.