This product is manufactured by Merck Canada using the ingredient mometasone furoate.
This product is inhaled into the lungs using the Twisthaler®.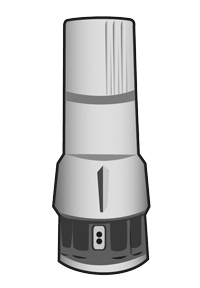 play
Twisthaler®
Why is it prescribed?
Asmanex® Twisthaler is an inhaled corticosteroid used to control asthma symptoms and prevent asthma worsening.
Your doctor has determined the correct dose of this medicine. Your doctor will instruct you how often to use this medicine, depending on relief of your symptoms. Your doctor may adjust this dose, depending on your response to treatment.
As prescribed by your doctor, you should always carry a rescue inhaler such as salbutamol with you. Use your rescue inhaler if your asthma symptoms occur between doses. If your rescue inhaler medication becomes less effective, seek medical attention right away.
The lowest dose of Asmanex® Twisthaler® required to maintain good asthma control should be used. When your asthma is well controlled, a reduction in the dose of Asmanex® Twisthaler® should be attempted in order to find the lowest possible dose required to maintain control.
Talk to your pharmacist or other healthcare provider about the proper use of the Asmanex® Twisthaler® device.
Asthma control is better achieved if once daily dosing is administered in the evening.
Use ASMANEX® Twisthaler® regularly and at the same time each day, as prescribed by your doctor. Some patients may experience relief within 24 hours, although you or your child may not get the most benefit for 1 to 2 weeks or longer after starting ASMANEX® Twisthaler®. If you or your child's symptoms do not improve in that time frame or if your condition gets worse, contact your doctor.
The inhaler delivers your medicine as a very fine powder that you or your child may not taste, smell, or feel. Do not take or give extra doses unless your doctor has told you to.
If you also use an inhaled bronchodilator in another inhaler, you should take the bronchodilator before you take ASMANEX® Twisthaler®. You should wait a few minutes between taking each inhaler.
Alternatives
Other products that have the same ingredient as Asmanex®Twisthaler® are •Apo-Mometasone Nasal Spray •Atectura® Breezhaler® •Enerzair® Breezhaler® •Nasonex® Nasal Spray •Sandoz Mometasone Nasal Spray •Sanis-Mometasone Nasal Spray •Teva-Mometasone Nasal Spray •Zenhale® •
See other products used in the treatment of •allergic rhinitis •asthma •hay fever •nasal polyps •perennial rhinitis •rhinitis •seasonal allergies •seasonal rhinitis •year-round allergies •sleep apnea •

Pediatric patients (4 to 11 years of age)
The recommended dose is 100 mcg administered by oral inhalation once daily in the evening.
Adults and Adolescents (12 years of age and older)
The recommended dose is 200 mcg or 400 mcg administered by oral inhalation once a day in the evening.
Mometasone furoate is a corticosteroid used to treat swelling and inflammation in the breathing passages.
Along with its needed effects, mometasone may cause some unwanted or undesirable effects. Generally, mometasone is well tolerated and many people will not experience unwanted effects. The frequency and severity of these effects is dependent on many factors including dose, duration of therapy and individual susceptibility. Possible unwanted effects include:
Nose/throat dryness or irritation
blood-tinged mucus/phlegm
nosebleeds
Tell your doctor right away if any of these serious side effects occur:
pain/sores in your nose
white patches in your nose/mouth
painful swallowing/trouble swallowing.
rash
itching/swelling (especially of the face/tongue/throat)
severe dizziness
trouble breathing
Before using mometasone, tell your doctor or pharmacist if you are allergic to it or if you have any other allergies. This product may contain inactive ingredients, which can cause allergic reactions or other problems. Talk to your pharmacist for more details.
Before using this medication, tell your doctor or pharmacist your medical history, especially of: eye problems (such as glaucoma, cataracts), infections (including tuberculosis, herpes eye infection), recent nose problems (such as injury, ulcers, surgery). Rarely, using corticosteroid medications for a long time can make it more difficult for your body to respond to physical stress. Therefore, before having surgery or emergency treatment, or if you get a serious illness/injury, tell your doctor or dentist that you are using this medication or have used this medication within the past few months.
Use in pregnancy and breastfeeding: It is unlikely that enough mometasone is absorbed into the blood or appears in breastmilk to cause any concerns, however, human data is limited. Consult your doctor or pharmacist before use.