Research-Dr. Tarun Katapally
2020-2021 Mitacs Accelerate Award Recipient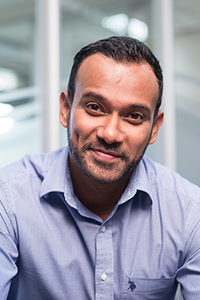 Dr. Tarun Katapally and his team from the Johnson Shoyama Graduate School of Public Policy at the University of Regina are investigating CO-Away – A Rapid Response Digital Tool to Tackle COVID-19.
The COVID-19 pandemic is an extremely complex threat that requires cohesive societal effort to address health system inefficiencies and overcome gaps in real-time data analytics. Understanding and mitigating the impact of globally debilitating pandemics such as COVID-19 requires precise big data about population risks and behaviours.
CO-Away will be a digital epidemiological platform that leverages the approach of a SMART Platform in integrating ethical surveillance, integrated knowledge translation, and policy and behaviour interventions in a northern Saskatchewan Indigenous community. CO-Away will gather data, where citizens will engage with the researchers in real-time to manage this evolving pandemic. The data sourced will be used for local decision-making in partnership with the community leadership.  
CO-Away will be designed to not only address population health risks during the current wave of the pandemic but will also be structured for rapid response during subsequent waves of COVID-19 as well as other communicable disease outbreaks.