Symbicort® Turbuhaler®
This product is manufactured by AstraZeneca Canada Inc. and is a combination of two ingredients, budesonide and formoterol fumarate.
This product is inhaled into the lungs using the Turbuhaler®.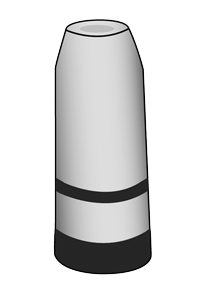 play
Turbuhaler®
Why is it prescribed?
For Symbicort® Turbuhaler® there are two treatment approaches:
A. Symbicort Maintenance Therapy: Symbicort® can be used for maintenance treatment with a separate rapid-acting bronchodilator medication for rescue.
B. Symbicort Maintenance and Reliever Therapy: Symbicort® can also be used as both a maintenance treatment and a rapid-acting rescue medication as needed in response to symptoms.

Symbicort® is indicated for regular treatment of asthma in patients 12 years of age and older with reversible obstructive airways disease, where the use of two medications is appropriate. This includes people already using a long-acting bronchodilator and a separate inhaled corticosteroid medication and those using the recommended doses of an inhaled anti-inflammatory drug but still experiencing regular or frequent breakthrough symptoms (e.g. coughing and wheezing) which require the use of rescue bronchodilators.
Symbicort® Turbuhaler® is indicated for the maintenance treatment of moderate to severe COPD including chronic bronchitis and emphysema, in patients with persistent symptoms and a history of exacerbations, where the use of a combination product is considered appropriate.
Symbicort® Turbuhaler® is not indicated for the relief of acute bronchospasm in COPD patients.
---
Symbicort® is intended for continual use on a regular basis to prevent symptoms. It can also be used between regular doses as a rescue medication if needed or a short-acting bronchodilator e.g., salbutamol can be used between regular doses as a rescue medication.
After inhaling a dose, be sure to rinse your mouth with water and spit it out. This may help prevent developing the fungal infection of the mouth and throat called thrush.
If you accidently take more than the recommended number of inhalations, you may notice that your heart is beating faster than usual, that you have a headache and that you feel shaky. In this case, immediately contact your doctor.
If you miss a scheduled dose of Symbicort®, take it as soon as you remember and then go back to your regular schedule. Never take a double dose of Symbicort® to make up for missed doses. If you are still unsure, check with your pharmacist.
Your doctor or pharmacist should have instructed you on the proper use and care of your Symbicort®. It is advisable to have your technique reassessed by the pharmacist for the first 2 or 3 refills of your prescription.
The Symbicort® Turbuhaler® should be kept clean and dry at all times. Never breathe out into the device or use any fluids to clean it. Clean the outside of the mouthpiece once a week with a dry tissue. Each Symbicort® Turbuhaler® has its own built in drying agent located in the brown turning grip. If you shake the device, you can hear it.
The dose indicator tells you how many doses are left in the inhaler. Every 20th dose is marked with a number and every 10th dose is marked with a dash. The inhaler is empty when the "0" on the red background has reached the middle of the window.
The device is not refillable and should be discarded when empty.
Children using the device should be supervised by an adult who knows how to use it properly.
Always replace the cover after use and keep away from moisture.
Rinsing the mouth with water and spitting out after each use will remove any remaining medication to help prevent local yeast (thrush) infections. Cleansing dentures has the same effect. Notify your doctor if a sore throat or mouth occurs or if you suspect a localized yeast infection.
Alternatives
See other products used in the treatment of •allergic rhinitis •asthma •hay fever •nasal polyps •perennial rhinitis •rhinitis •runny nose •seasonal rhinitis •bronchospasm associated with COPD •chronic bronchitis (COPD) •COPD •emphysema (COPD) •

The dosage of Symbicort® is individual. Follow your doctor's instructions carefully.
Asthma:
If using Symbicort® for prevention only, the recommended dose in adults and children 12 years of age and older is 1 to 2 inhalations of Symbicort® 100mcg or 200 mcg once or twice daily (maximum daily dose 4 inhalations).
If using Symbicort® for prevention and rescue, the recommended dose in adults and children 12 years of age and older is 1 to 2 inhalations of Symbicort® 100 mcg or 200 mcg twice daily or 2 inhalations once daily. For rescue, 1 additional inhalation should be taken as needed for relief of symptoms. If symptoms continue after a few minutes, another 1 inhalation should be taken. No more than 6 inhalations should be used at one time. The maximum recommended total daily dose is 8 inhalations.
COPD:
Adults 18 years and older: 2 inhalations of Symbicort® 200 mcg twice daily (maximum: 4 inhalations/day)
Symbicort® Turbuhaler® is a combination of two medications (budesonide and formoterol) that work in different ways to help you breathe more easily. Budesonide reduces and prevents the inflammation in the airways. Formoterol works by widening your airways, making it easier for you to breathe.
Along with its needed effects, Symbicort® Turbuhaler® may cause some unwanted or undesirable effects.
Generally, Symbicort® Turbuhaler® is well tolerated and many people will not experience unwanted effects.
Very occasionally, some people may feel a little shaky or have a headache or notice that their heart is beating faster than usual. Other side effects include sleeping difficulties, restlessness or nervousness, dizziness, sickness and muscle cramps. Tell your doctor but do not stop using the medicine unless told to do so.
Some people may have a mild irritation in their throat or cough after taking the medicine or that their voice becomes a little hoarse. In some people, a mild fungal infection known as thrush may occur. Rare side effects include skin rash and bruising, itching, facial swelling, increase in chest tightness, chest pain, depression or behavioural disturbances and high blood sugar levels. If you experience any unwanted effects contact your doctor or pharmacist.
It is important not to exceed the number of inhalations as prescribed by your doctor of Symbicort® Turbuhaler®. Doing so increases the risk of potentially serious unwanted effects.
If your rescue medication (Symbicort® or short-acting bronchodilator) is not working as well as it usually does and/or you need more frequent doses to control breakthrough symptoms, your asthma may be worsening. Your condition should be reassessed by your doctor immediately.
Be sure to tell your doctor and pharmacist about any prescription and over-the-counter medications you are taking in order to avoid any potential drug interactions. Some medications known to interact with Symbicort® turbuhaler include beta-blockers used for certain heart conditions (e.g., propranolol, high blood pressure (e.g., atenolol), eye conditions (e.g., timolol)and medications to treat fungal infections (e.g., ketoconazole)
Use of Symbicort® is not recommended in the following situations:

allergy to formoterol
allergy to budesonide or any component of the preparation
allergy to lactose
cardiac arrhythmia (irregular heartbeat), especially increased heart rate arrhythmias
people with tuberculosis
untreated fungal, bacterial and viral infections
Caution is recommended in the following situations:
people previously treated for prolonged periods with oral corticosteroids (e.g. prednisone)
hyperthyroidism
diabetes
heart disease
high blood pressure
Use in pregnancy: If you suspect that you might be pregnant or if you plan to become pregnant, consult your doctor.
Use while breastfeeding: It is not known whether budesonide is passed into breast milk, but it is suspected. Formoterol is probably passed into breast milk. Consult your doctor or pharmacist before you begin breastfeeding.
As with all long-acting beta2-agonists and beta2-agonist/corticosteroid combinations, Symbicort® carries a warning that long-acting beta2-agonists have been associated with asthma death. These warnings are based on a U.S. study using salmeterol.
Use in children: Symbicort® Turbuhaler® is not currently recommended in children younger than 12 years of age due to limited clinical data in this age group.