This product is manufactured by Pfizer using the ingredient rifabutin.
This product is taken orally.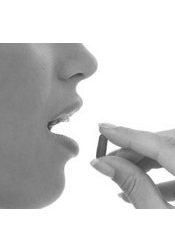 play
orally
Why is it prescribed?
Rifabutin is used to treat tuberculosis and Mycobacterium avium complex (MAC) disease.
Do not stop taking Mycobutin® unless directed by your physician as this could cause the infection to return.
Take this drug at the same time every day.
Swallow the capsules whole with a drink of water.
If this medication makes you feel nauseous, you can take one capsule twice a day. In this case, take with food.
If you forget to take a dose, take it as soon as you remember, unless it is time for your next dose. Do not take a double dose to make up for a missed dose.
Store Mycobutin® at room temperature
Alternatives
See other products used in the treatment of •tuberculosis •

The usual dosage is 300mg by mouth once daily or 3 times/week.
Rifabutin is an antibiotic that treats infections caused by germs (bacteria) called mycobacteria. Mycobacteria cause infections such as tuberculosis and Mycobacterium avium complex (MAC) disease.
More common side effects:
Abdominal or stomach pain
bad, unusual, or unpleasant (after) taste in the mouth
belching
bloated or full feeling
change in taste
discoloration of the urine
excess air or gas in the stomach or intestines
headache
nausea
passing gas
trouble sleeping
Check with your doctor immediately if any of the following side effects occur:
Black, tarry stools
chest pain
chills
cough
diarrhea
fever
itching or skin rash
loss of appetite
painful or difficult urination
sore throat
ulcers, sores, or white spots in the mouth
unusual bleeding or bruising
unusual tiredness or weakness
Do not use rifabutin if:
If you are allergic (hypersensitive) to this drug.
If you are allergic to any drug containing rifamycin.
Make sure you tell your doctor if you have any other medical problems, especially:
Diarrhea
Inflammation of the muscle
Uveitis
Severe kidney disease
Drug Interactions:
The following drugs may interact with rifabutin:
medications to treat diabetes
acetylsalicylic acid (ASA)
methadone
warfarin
prednisone
medications to suppress the immune system like cyclosporine and tacrolimus
quinidine or digitalis (digoxin is okay)
dapsone
phenytoin (Dilantin)
medications to treat fungal infections like fluconazole, itraconazole, posaconazole, voriconazole, ketoconazole and miconazole
medications to treat viral infections like indinavir, saquinavir, ritonavir or amprenavir, fosamprenavir/ritonavir, lopinavir/ritonavir and tipranavir/ritonavir
delviradine
clarithromycin
birth control pills that have ethinyl estradiol and/or norethindrone.
Use in pregnancy: There is no human data available on safety in pregnancy. Animal studies suggest low risk.
Use in breastfeeding: There is no human data available on safety in breastfeeding. Weigh the potential benefits against the potential risks before taking this medication while breastfeeding.