This product is manufactured by AstraZeneca Canada Inc. using the ingredient terbutaline sulfate.
This product is inhaled into the lungs using the Turbuhaler®.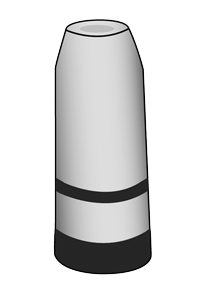 play
Turbuhaler®
Why is it prescribed?
Terbutaline is used to relieve symptoms of asthma as well as bronchospasm associated with bronchitis and emphysema.
Bricanyl® Turbuhaler® is effective as a rescue medication. Maximum response is usually attained between 15 and 60 minutes following administration and effects last for 4 to 7 hours.
To ensure administration of the proper dosage, your doctor or pharmacist should instruct you on the proper use and care of the turbuhaler. The device comes with an information pamphlet that should be read and kept for later reference.
The turbuhaler should be kept clean and dry at all times. Never breathe into the device or use any fluids to clean it. Clean the outside of the mouthpiece once a week with a dry tissue.
This medication is so sensitive to moisture that the device has it's own built in drying agent located in the blue grip. If you shake the device, you can hear it.
Bricanyl® Turbuhaler® contains no other ingredients and you may not taste or feel anything when you inhale a dose.
The device has a dose indicator window located underneath the mouthpiece. When a red band appears in the window, there are approximately 20 doses left. The device is not refillable and should be discarded when empty.
Children using the device should be supervised by an adult who is familiar with it's proper use.
Always replace the cover after use and keep away from moisture.
Store at room temperature.
Alternatives
See other products used in the treatment of •asthma •bronchitis •COPD •emphysema (COPD) •

The usual dose for adults and children 6 years of age or older is 1 inhalation when required. If adequate relief was not achieved then a second inhalation may be taken after 5 minutes has passed. More than 6 inhalations should not be required in a 24 hour period.
Terbutaline is a short-acting bronchodilator that acts at specific receptors called beta2- adrenergic receptors. Stimulating these beta receptors in the bronchial smooth muscle causes the muscle to relax, allowing the bronchial tubes to dilate (widen). This bronchodilation relieves spasm or contraction of the muscle, allowing air to move in and out of the lungs more freely.
Along with its needed effects, terbutaline may cause some unwanted or undesirable effects. Generally, terbutaline is well tolerated and many people will not experience unwanted effects. The severity and duration of these effects are dependant on many factors including duration of therapy, dose, route of administration and individual response. Possible unwanted effects include:
nervousness
slight palpitations (awareness of heart beat)
tremor
restlessness
headache

Uncommon:
increased heart rate
dizziness
nausea
muscle cramps
trouble sleeping
weakness
flushing

Rare:
restlessness
irritability
unusual taste
angina (chest discomfort)

Many of these unwanted effects, especially the most common ones, may disappear with continued use. Check with the doctor or pharmacist if any of them continue or become bothersome.
Use exactly as prescribed. Never exceed the maximum dosage set by your physician. If you find that you are not responding to your usual dose, it could mean that your asthma is worsening and you should contact your physician. Increasing the dose, especially over extended periods, can lead to tolerance. Keep in mind that the bronchodilator action should last between 4 to 7 hours. If you are using terbutaline for an acute asthma episode and the condition continues or worsens, stop using the terbutaline and call your doctor. If you need to use terbutaline to relieve symptoms more than 3 times a week you should also be using an anti-inflammatory medication (e.g. budesonide, fluticasone).
Drug Interactions: Be sure to tell your doctor and pharmacist about any prescription or over-the-counter medications you are taking. The following drugs and drug classes have been known to interact with terbutaline:
MAO (monoamine oxidase) inhibitors (e.g. phenelzine, tranylcypromine)
tricyclic antidepressants (e.g. amitriptyline)
some beta-blockers (e.g. propranolol)
other bronchodilators (e.g. salbutamol)

Use is not recommended in the following situations:
allergy to terbutaline or any component of the preparation
cardiac arrhythmia (irregular heart beat) associated with tachycardia (rapid heart rate)

Caution is recommended in the following situations:
hyperthyroidism (overactive thyroid)
high blood pressure
diabetes
history of seizures
heart disease
sensitivity to sympathomimetics (drugs that stimulate the central nervous system)

Use in pregnancy: Generally considered safe to use in pregnancy but contact your doctor or pharmacist before using.
Use while breast-feeding: Considered safe to use if breast-feeding.