Philips CPAP Recall Research Study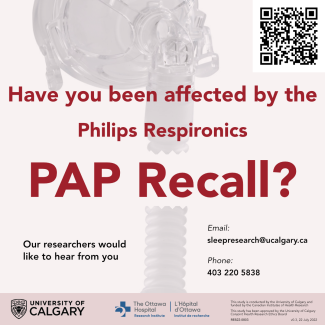 About the Study
In June 2021, Philips Respironics issued a voluntary recall of CPAP and other positive airway pressure (PAP) medical devices over concerns about potential health risks due to the breakdown of polyurethane foam used in many of their devices distributed between 2009–2021.
Researchers from the University of Ottawa and University of Calgary are speaking with patients from across Canada who have been affected by this recall.
How to Participate
Participation involves an approximate 30 minute interview, by phone or video call. Modest reimbursement provided.
If interested, email sleepresearch@ucalgary.ca, or phone 403 220 5838.
---