Exploring Physical and Psychological Effects of COVID-19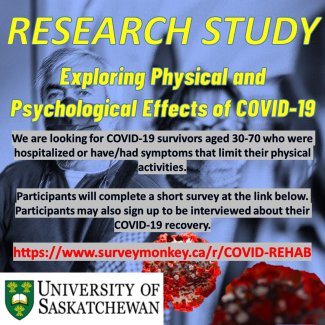 Researchers at the University of Saskatchewan (Rehabilitation Science and Kinesiology) are looking for survivors of COVID-19 aged 30-70 who were hospitalized or have/had symptoms that limit their physical activities, to complete a  survey designed to document their symptoms and rehabilitation needs.
The survey is fairly short and should take less than 30 minutes to complete. If you are interested, please go to: https://www.surveymonkey.ca/r/COVID-REHAB.
For more information, please contact Dr. Scotty Butcher at scotty.butcher@usask.ca or 306-966-1711.