Communicating COVID-19 Recommendations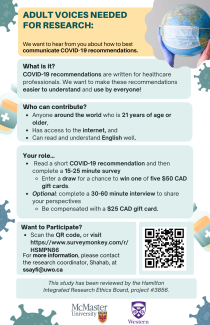 About the Study
Numerous recommendations regarding COVID-19 have been written and continue to be written for healthcare professionals, to guide diagnosis and management.
Researchers at McMaster University are seeking input from adults 21 years of age and older on how to best communicate COVID-19 recommendations to ensure they are easy to understand and can be used by everyone.
How to Participate
To participate in this study, visit https://www.surveymonkey.com/r/HSMPN86 and for more information about the study, please contact the research coordinator at ssayfi@uwo.ca.
---