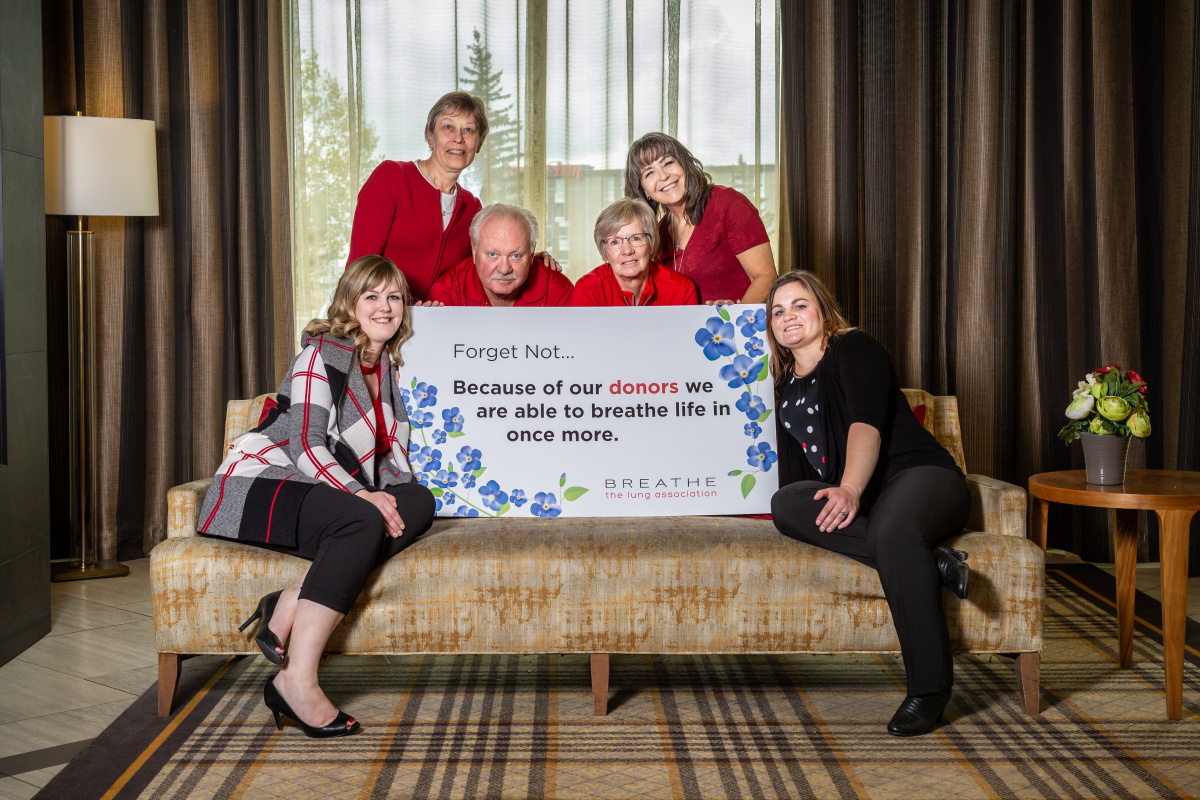 Nicole, Donna, Moe, Karen , Jenna (Lung Transplant Recipients) & Brenda (Caregiver)
As an organ donor, you could save up to eight lives and enhance the lives of up to fifty people by gifting your organs.
Is that not a gift worth talking to your loved ones about? For those living with chronic lung disease and struggling to breathe, a lung transplant may be the only treatment option available to them to survive and reclaim their quality of life.

The Lung Association is asking everyone to think about becoming an organ donor and to share your wishes with your loved ones so they are able to honor and act on your gift when it is time to do so.
 
To become an organ donor you can:
Have a purposeful conversation with your family and loved ones about becoming an organ donor.
Make your explicit wishes known and help your loved ones understand your decision and ask for their agreement that they will honor your wishes.
Place the Government issued organ donation sticker on your provincial health card and carry it with you.
You can also make your wishes known in writing and through your legal Will.  To help you plan for the future, the Lung Association offers a free Will service or an update to an existing Will through the Free Wills Program. For more details please contact us.
 
Thank-you for considering your future gift and please consider your gift of today.
The Caring Breaths Financial Assistance Program inspired by our organ donor Breathe Ambassadors. This program provides financial assistance to those experiencing financial burden because of their lung disease. Based on factual information from patients, we know that those who require a lung transplant will need to leave the province and travel to Edmonton or another transplant center with a caregiver for up to 3 months. In that period, the homes in Saskatchewan must be maintained and all additional costs for accommodation, travel, food and incidentals incurred out of province must be met by the patient and caregiver, these costs can be as high as $20,000.   We do not believe the patients must choose between suffering illness or suffering financial hardship, we want to help and hope you do to.
Please consider donating your gift of life and your gift of hope today, you will help those we need our help the most.
Please take the time to read the extraordinary stories of the Lung Association organ donor BREATHE Ambassadors, ordinary people who truly understand the impact one organ donor can make in the lives of so many. Our BREATHE Ambassadors live each new day in honor of and in-service to those who made the gift possible.