Thank you for doing your part to protect the lung health of your family, and our community. 
The Lung Association is working on new and innovative ways to enhance partnerships to do our part to find solutions for emerging public health issues like the COVID-19 pandemic.
Have you ever struggled to catch your breath? In Saskatchewan, one in five people do. At The Lung Association, Saskatchewan, we are dedicated to spreading the gift of breath through research, helping others, and educating the public. When it comes to COVID-19, Those with lung conditions are more vulnerable. If you are part of this one in five, or a caregiver for someone who is, please take a look at this webinar facilitated by lung health experts from across Canada. 
As everyone is adjusting, we are so thankful that you are doing your part to stay home, stay safe, and breathe easy. For those who are essential workers, including our passionate lung health care professionals who cannot stay home, we thank you for your dedication.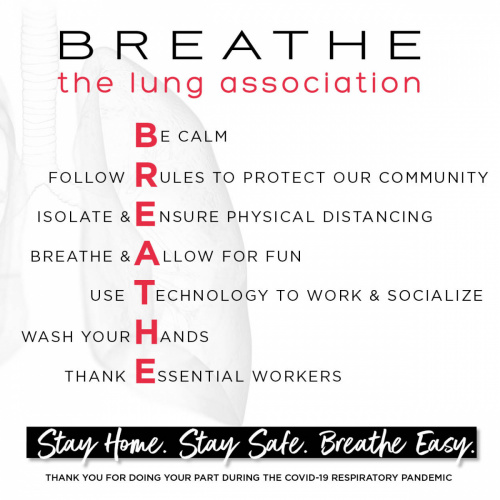 Thank you for staying home in quarantine or self isolation
Thank you for listening to the recommendations of the government
Thank you for practicing diligent hand-washing hygiene 
Thank you for putting your health and your families first
Thank you for supporting local businesses
By following these precautions, we can, as a society reduce the burden on our healthcare system and protect the most vulnerable in our communities, from senior citizens, expectant mothers, those with compromised immune systems and the one in five who struggle with lung health. 
Saskatchewan is a world-leader in respiratory research in relation to issues faced at home. Exposure to radon, secondhand smoke from cannabis and tobacco, farm chemicals, and other threats to lung health. These threats prompt important studies into: asthma; interstitial lung disease; lung transplantation; chronic obstructive pulmonary disease (COPD); obstructive sleep apnea (OSA); and lung cancer. Saskatchewan is recognized for leading-edge research in respirology which relates to issues we face at home, informs treatment, and sparks global collaborations. To learn more, see our research campaign.
Here are some tips to make the most of your self-isolation
Many of us, The Lung Association, Saskatchewan included, have had to adapt our plans to support working from home and providing useful information to you, at home. If you're in self-isolation or quarantine it's quite possible that you may be feeling a little stir-crazy. Make the most of your time with some of the following suggestions. We want to hear from you! Let us know how you spend your time.
Finish a household project.
Do you have a closet that needs organizing or something you've been wanting to get to but have been just too busy? Now is the perfect time to get started. Take an inventory of the projects you want to complete and chip away at them one at a time. 
Enjoy quality connection.
While you're at home with family or roommates, play a board game or spend time cooking a meal together and really getting to know one another again. Want to connect with people over a video call? Share a coffee, conversation, or a video game over a video call!
Unpack a passion.
From bins of quilts started, the camera you've been meaning to learn more about, or the guitar under your bed calling your name, pick up a hobby and spend time indulging yourself with recreational activities in the safety of your home. 
Carve out a space all your own. 
If you find yourself needing more space to yourself, define individual zones in your space. If you are able to work from home, you'll appreciate having your own environment to focus in. Move some furniture around and create a space you'll be comfortable in.
Research around health is important for the health of our people, finances, freedom, impact every aspect of our lives. We can see that now, more than ever with this pandemic on our front step. Your contribution helps us fund these important studies to keep each and everyone safe. 
When you can't breathe, nothing else matters.
We are your number one source of credible information in lung health during this respiratory emergency. Find out more information about the impact of the Coronavirus and follow us on social media.
As everyone is adjusting, we are so thankful that you are doing your part to stay safe, and stay home. For those essential workers who can not stay home, thank you for your dedication.